Cryptocurrencies are causing a stir with their skyrocketing value. With this, the demand for Blockchain Service Network wallets (BSN) or simply blockchain wallets is also rising. At the start of 2021, over 40 million users were reported to be using wallets for transactions of their digital currencies.
While these BSN wallets are wrapped in an intuitive interface for users, they have complex back-end functioning. This makes many curious about how exactly these Blockchain-powered wallets work, how secure are the transactions made with these wallets, how and where do they store digital currencies, and so on. 
A Blockchain (or cryptocurrency) wallet is a software program that enables users to buy, sell, and monitor balance for their digital currency (or assets). If you are involved in an exchange of Bitcoin, Ethereum, or other cryptocurrencies, then you must be using a Blockchain wallet of any type (different wallet types discussed later).
Unlike traditional pocket wallets, Blockchain wallets do not save cryptocurrencies. Instead, they keep a record of all transactions (sell, buy, exchange) related to the currency and store them on Blockchain.
A cryptocurrency wallet stores private and public keys for a transaction. The wallet interacts with multiple Blockchains to validate a transaction, enabling users to purchase or sell one or multiple cryptocurrencies.
Setting Up a New Blockchain Wallet
Here, we will see the safe and secure way of creating a Blockchain Wallet at blockchain.info:
Step 1. Open blockchain.info in the browser. And click on Sign Up.
Step 2. Enter your email and password. Confirm the password and toggle the Terms of Service box. Hit "Continue." Make sure that you pick a password you are unlikely to forget and read the terms of service thoroughly.
Step 3. After clicking on Continue, you will need to confirm your E-mail address. A confirmation link will be sent to your entered E-mail address. Make sure to verify your E-mail ID.
Step 4. After verifying your E-mail address, your wallet will come online. Next, you will be directed to your dashboard, where you can send and receive cryptocurrencies via your new wallet. But before that, you need to clear the three major security checks to secure your wallet completely.
Step 5. After clicking on Security, you need to enable all three major security checks to secure your wallet. Make sure to link your E-mail and enable the two-step authentication. Attention! If your password is lost, you will never be able to recover it. So the only recovery option available is the 'Secret Private Key Recovery Phase'.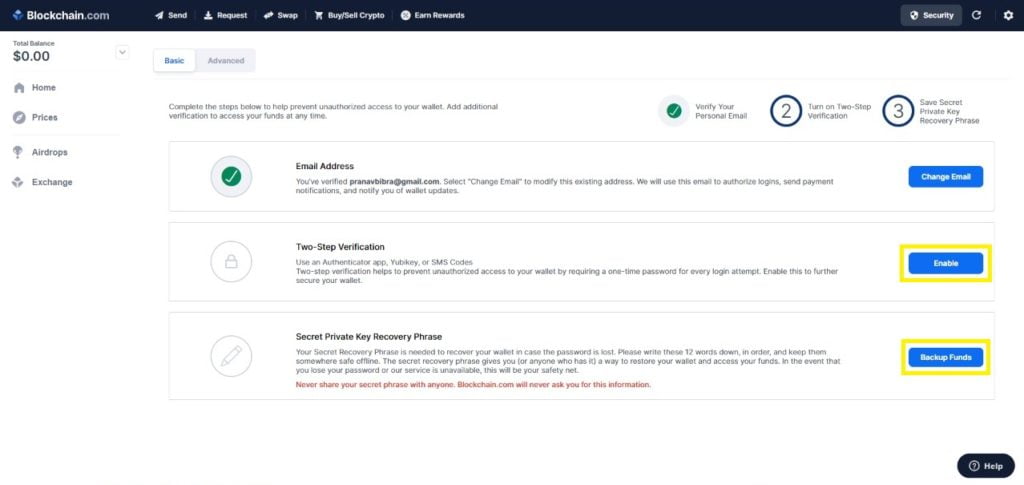 Step 6. After clicking on 'Secret Private Key Recovery Phase', you will be given 12 security keyphrases that you need to save sequence wise to use when required. After setting up and entering the secret keyphrases, your wallet will be backed up. Make sure you never share those secret keyphrases with anyone.
Step 7. After successfully clearing all three security checks, your wallet will be 100% backed up. And is now ready to use.
Step 8. To send and receive your desired currency, click on send/request on the top bar on the dashboard. And you will be able to send and receive cryptocurrencies using your Wallet ID and the receiver's ID.
Congratulations! Your Blockchain BSN Wallet has been created successfully. Happy crypto-ing.
Also, check out: