The global Crypto market has had a few rough weeks lately, with Bitcoin (BTC) dipping below the $30,000 mark, Ethereum (ETH) dipping below $2,500, and the global crypto market cap reaching a new low of $1.6 Trillion. But why has this happened, and how exactly did it start in the first place? Is it related to an external factor such as geopolitical tensions arising or a periodic dip as we have seen before?
Crypto markets have gone into a rough state for a variety of external factors.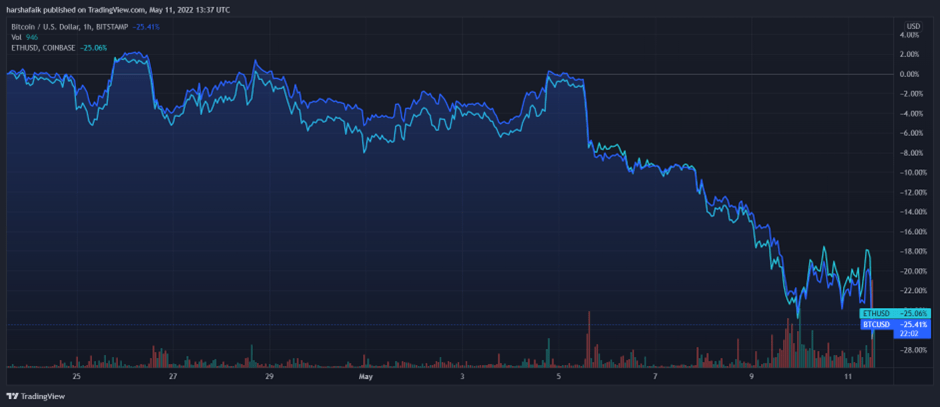 According to experts, the major reason for the crypto price crash is the broad sell-off fear among investors. This is not limited to crypto markets as equity markets face a similar situation too.
If we take a look at the top three indices in the United States Stock exchanges which is S&P 500, Dow Jones, and Nasdaq Composite, we see a similar price fall in all of them. While Dow Jones had more pronounced degrowth than the other two, the situation was not pretty back then.
We also need to understand the high inflation risks in many countries across the world especially advanced economies. Central banks are looking to tighten up the interest rate to curb inflation. Essentially, this forces investors to pull out of the markets resulting in a downfall. This is one of the major reasons for the fall of equity markets which is evident across all major economies.
It is also seen that BTC has an unusually high correlation with the S&P Index. So, if the S&P index suffers, BTC also tends to suffer.
Finally, the nail in the coffin came from Luna Foundation Guard. The organization decided to offload about $750 million from its BTC reserves. This is due to uncertain macro conditions across the market.
Other factors such as the growing Russia-Ukraine situation, the highly volatile situation in Sri Lanka, and the bucketload of debt created by China through offering loans to poorer countries without any substantial collateral have made a sense of fear among the markets.
What can the crypto market expect in the next few weeks?
Things could move towards a more stable environment as the global crypto market cap has shown some recovery. Besides that, Bitcoin could also see some bounceback in the next couple of weeks. Also, the de-escalation talks between Russia and Ukraine could finally put an end to the truce further improving the state of markets.
Related Stories: