Amidst the potential ban on all private cryptocurrencies by the Indian government, They've recently released a draft policy about the backbone of cryptos: Blockchain. And there is a lot to talk about how the government looks at the technology. If I have to say it in one word, it'll be: Optimistic.
The draft has listed various aspects where Blockchain can be incorportaed.
The document has briefly listed and explained the various potential areas where Blockchain technology can be a better fit than the current systems and should be incorporated in the future. It is broken into two aspects:
Administrative aspects

Implementing appropriate legal and regulatory architectures including formulation of standards.
Formulating policies and incentive models for academic, start-ups and industry for promoting and adopting Blockchain technology.

Technological Aspects

Evolving a National Blockchain Infrastructure for hosting regulatory sandbox that can be used for building and deploying Blockchain applications.

Deploying Production Grade Applications of National interest focusing towards providing faster, secure, transparent and efficient delivery of services to the citizens.
Awareness and Capacity Building to ramp-up technology insight across various stake-holders including students, practitioners, management / executives, decision makers and so on.
The draft also has a multitude of applications government can look at for blockchain technology.
Potential Blockchain applications of National interest include:
Transfer of Land Records (Property Record Management)
Digital Certificates Management (Education, Death, Birth, agreements, sale & Identity management
Pharmaceutical supply chain & Electronic Health Record Management
eVoting & e-Notary Service (Blockchain enabled e-Sign Solution)
Agriculture & Farm Insurance
Power distribution & Public Service Delivery
Digital Evidence Management System
IoT Device Management and Security
Microfinance for Self-Help Groups (SHG)
Government is looking at Blockchain technology to add value to their existing systems.
Blockchain can bring lot of value addition in e-Governance by improving Transparency & accountability as well as building Trust with Citizens. It can also reduce the time of transactions. Protection of Sensitive Data is guaranteed as well.
Verification for proof of existence through documents can be easily done by comparing the provided document copy against a version stored in the Blockchain.
It can also be used to create and enable smart contracts, supply chains for various government processes, trusted inter-department communication and tamper evident storage.
Forecasting Blockchain's Business Value
The Blockchain opportunities provide a landscape for future economic development and potential growth that is worthy of assessment, especially as Gartner predicts that: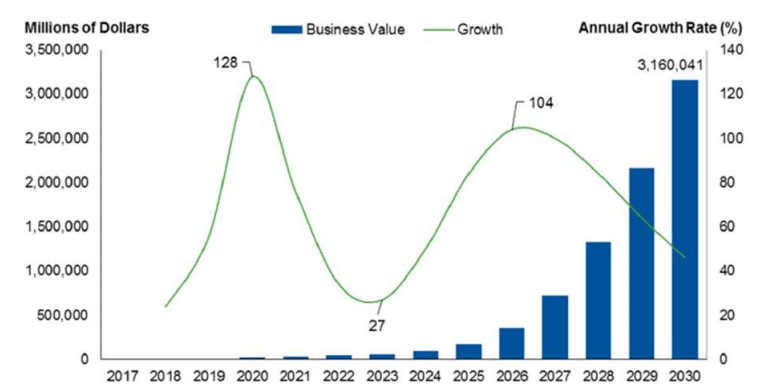 By 2022, many new innovative companies will start using Blockchain Technology and at least one business created using Blockchain technology will be worth $10 billion.
By 2025, Blockchain would add a business value that will grow to over $176 billion. This would increase further to $3.1 trillion by 2030.
By 2030, Blockchain would be used as a foundational technology for 30% of the global customer base that will be made up of things, and these things will be used for conducting commercial activities.
National scenario regarding Blockchain Technology.
Ministry of Electronics and Information Technology (MeitY) has identified Blockchain Technology as one of the important research areas having application potential in different domains such as Governance, Banking & Finance, Cyber Security and so on. A multi institutional project titled Distributed Centre of Excellence in Blockchain Technology has the backing of the ministry with C-DAC, IDRBT and VJTI as executing agencies.
These agencies have carried out research on Blockchain technology and developed P-o-C solutions for it.
In Shamshabad, Telangana, A property registration project has been piloted based on Blockchain technology.
Telecom Regulatory authority of India(TRAI) took the benefits of blockchain technology to address the biggest concerns in the mobile communications world: spam messages. TRAI came up with a regulation for every mobile operator to use distributed ledger technology(DLT) to ensure telemarketing messages are sent only to the registered entities.
NITI Aayog looks at Blockchain as a promising Technology enabling features such as decentralization, transparency and accountability. It has executed various use cases like land records, pharmaceutical supply chain, fertilizer subsidy disbursement and educational certificates.
Reserve Bank of India (RBI) is looking on applying Blockchain Technology in the banking domain. Mahindra and IBM have jointly collaborated on a supply chain management solution. SBI has also associated with commercial banks and financial institutions for Blockchain based application pilot.
Roadmap
The government has been assessing the value proposition of the technology for awhile now. If we talk about the present state, as briefly mentioned by a couple of examples above, the government is carrying out pilot project and prototype platforms to iron out the kinks and ease the adoption process for Blockchain systems.
Along with that, several prototype platforms are being identified and evaluated for specific applications.
If everything goes well, we can expect scale deployments and a broader adoption to other domains as well as cross domain applications in the near future.
For example, A health care ledger containing all the patient health records could prove to be a very effective step in incorporating blockchain technology for other systems. Also, the reduced time, added efficiency and the multitude of advantages blockchains have. This could help doctors of any hospital across the country access patient history, when patient approaches for treatment.
Conclusion
The Blockchain technology is still evolving and it has the potential for Government to adopt but right now it is recommended to have an elaborate research in the domain. It'll help addressing various challenges while adopting the technology towards a trusted public digital platform.
For a sustainable growth, There needs to be a focus on research in the domains of standards, scalability & performance. Security & privacy needs to be priority too as well as detection of vulnerabilities.
With all being said, how the future looks out for Blockchain Technology remains to be seen but if things work out well, it could be a viable and a valuable system instead of the current arrangements.