SolChicks is one of the growing play-to-earn Games, which is built on the trending Solana Blockchain. It is a race battle game of chickens discovered recently. The story revolves around the ancient archives and races on the planet named Chicco. Young chickens are trained for combat battle as per the theme of the game.
SolChicks says to present exciting chances to discover and collect rare collectibles and earn for the playtime via this Solana Blockchain. Gamers are rewarded based on their game time. There are plenty of modes for challenging and battling other opponents. You will find high-quality NFT gaming experience with lots of competitive gaming arenas.
Mission and Roadmap – SolChicks
SolChicks aims to become the fastest-growing play-to- earn game built on the Solana Blockchain, providing value for money experience. They desire to recreate a MOBA game providing a high-quality gaming experience to its players. Eyeing to become the first and fast movers in the next 6 months and build a recognising image with quality core and marque investors.
16 September 2021
Initial SOLCHICKS release made.
Minting of the First 10k SolChicks on Solana.

Q4 2021
The release of SolChicks Alpha.
Launch date of the SolChicks Gaiming.
Start experiencing and evolving the SolChicks.

Q1 2022
The Battle of SOLFOX Challenge.
Only some seasoned players and users will untergo this challenging experience.

Q1 2022
The $CHICKS token will be released on the Solana Blockchain.
CHICKS token will povide the owner some game profits and staking privileges.

Q2 2022
Release of the Second Update and the SOLCHICKS Community.
New update includes new worlds and SolChicks marketplace, and many more.

Q3 2022
Release of the Third Update.
New exciitng features like Flocks and weapons and buildings.

Features of SolChicks
SolChicks provide an interesting in-game experience with features like training and breeding your chicks. Preparing them for player versus player battles and raiding other's farms. Finally, climbing up the ladder and finishing exciting quests.
BOND
Play and feed the baby SolChicks and make sure they are healthy. There are feeding and training features w=to make your chickens strong for combat. Evolve your chicks and obtain those powerups and level up above your opponent. You can play through the in-game interface of SolChick. You can call, pet and even interact with your chicks. Evolve and train them to turn them into Grand SolChicks which will help in battles and earn $CHICKS.
PVP BATTLES
One can test their skills and find who has the strongest SolChick among other global players. Although players are pitted against each other in a battle royale-style, PvP battles are one of the most demanding features in the SolChick. Players have a choice whether to combat solo or form a team. The player matching will be based on the level of your SolChicks.
RAIDS
Raids is a special feature only for those at the hardened Grandmaster SolChicks level. Quite similar battle mechanics as of the PvP battles but designed for more experienced players. Partner up with Grandmaster to engage in raids on other grandmasters. There are participating EXP points based on the level of contribution. Raids will be available only for a short time, unlike other PvP battles.
Finish Quests
Along with these exciting battles and PvP experiences, there are quests as a storyline for the players to focus on. Stages to discover hidden traits and missions to keep a player interested constantly. Upgrading their chicks and advancing the levels will put them close in the quest run. It will be a test of skill and strategy.
SolChicks Tokenomics
The token SolChick ($CHICKS) is said to be released in Q1 of 2022 as the only currency to be used in the game. With $CHICKS players can buy sell their items. The initial supply will be 100 Billion tokens.
In a rewarding game loop, the players will participate. Earning rewards both in-game as well as in the real world through their game time. There are said to be only 10,000 mints of NFT SolChicks, meaning at a given time only 10,000 players would be able to play the game actively. Of course, this is only for the initial stages only.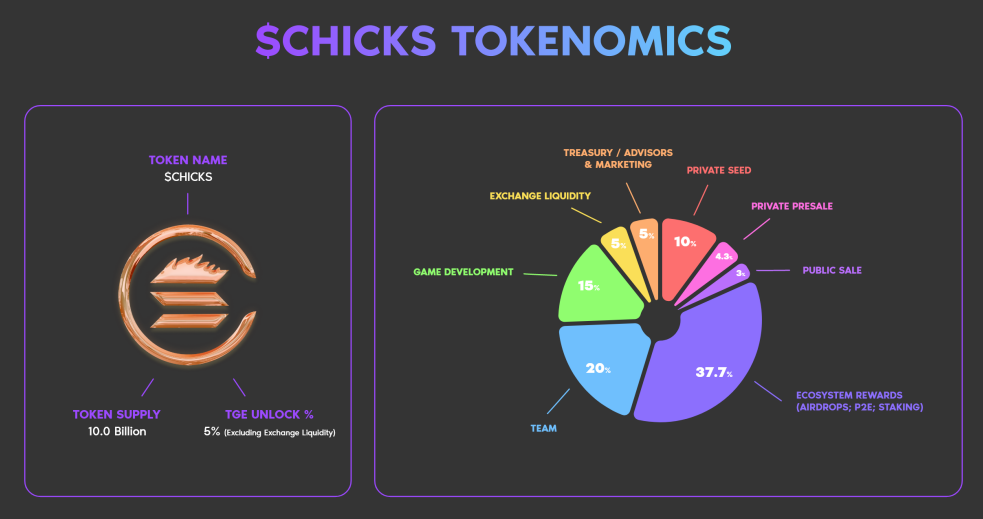 It is a slow process as breeding chicks would also take time. And with that time, the game will be filled with upgrades regarding more NFT mints. However, the initial mechanics for breeding negates that each player will play the game twice till two SolChicks are of level 45. And finally, the token will also be listed on the Solana Decentralized Exchange. The token will have a 10% transaction tax as well, 5 for liquidity and the other 5 for the burn.
Players will be able to create unlimited new Chicks with no prior qualities with just the cost of 1 Sol. These NFTs cannot be bred or traded in the game. There will also be a cost required in order to preserve the collection value if a player has a rare SolChicks NFT. This will also ensure that breeding after a certain level will require more tokens and will be more expensive.
Partners and Investors
Solana
Solana blockchain is an open source decentralized platform with the internal currency SOL. This project is backed by the Solana Blockchain, which is the fastest blockchian around. With projects over 400 and a fast growing face into the future capital. More projects like SolChicks can be expexted to arrive based on Solana Blockchain.
Chainlink
Another development partner is Chainlink, which is currently reanked around 15 with market cap of $10 Billion USD. It is an open source technology, aiming to build its resource for public goodwill and for the benifit of the blockchain as well. Chainlink also allows connection to any kind of API and ready made solutions for secure chain transactions.
Grape
Grape is known to be the network that crosser Solana recently, raising over $1.8 million in capital in Sept. 2021. This network extracts the power of Solana chain to reward, create and secure online communitites while giving the decentralized previlages to the projects. Features like multi-coin configuration adn Grape Acess System, the experience is smooth and secure at the same time.
DigitalEyes
DigitalEyes is the NFT marketplace partner based on the Solana Network. It uses verified technology to get the collections like Solarians, Abstratica and Rox to the user. Promises safe secure and less time consuming transactions.
Altura
With about 20,000 users and market cap of over $30 Million Dollar Altura is the premium smart contracts network. It allows users to distribute, mint and transact smart contract basaed NFTs via in game items. Allowing to fully own thier digital NFT assets with no fear of removal. Offers less fees and uses transparent protocols an simple APIs.
The full list of investors is officially listed on the SolChicks site: SolChicks NFT
Core Team Behind SolChicks
William, CEO: William is a gamer, crypto fan visionary educated from the Wharton School of Business. Started his career from McKinsey and Co. Climbed his way up as a trusted advitor to one of the most influential businesses.
Lewis, COO: Lewis started as a gamer as well. Crypto enthusiast and previous investor at Bain Capital banking in Houlihan Lokey. He hs the lead of this special project responsible for the launch and design of the $CHICKS token.
Pietro, CMO: Pietro is the Chief Marketing Officer and a techly crypto fan, in the crypto domain for a while. He has developed projects like multi exchange arb trading bot and is well versed in the crypto space. Several years of expertise in management and consulting, Pietro is the head behind the marketing core.
Jun, Game Development Lead: Jun is a young investor and a crypto entrepreneur. An ex investment banker at Houlihan Lokey. He is the brains behind the development of the SolChicks and designing the interface and mechanics of the game.
Don, Web Solutions Head: Don is the head of the Web Development and media production. He specializes in Mobile application creation and website development. Responsible for all the latest updates and AI interface on the Company Website.
Final Thoughts
The objective behind the creation of the SolChicks project is to make the NFT marketplace more exciting and accessible. And with the vision to create an attractive game for every generation. The core team kept in mind to create the game in a decentralised manner by adopting the Solana Blockchain and keeping up with the Hot trends. With the game launch nearing the due date, the fans are sharing their appreciation on platforms like Telegram and Discord. Projects based on the Solana chain are radially increasing day by day. Many interesting projects are lined up to release in 2022 as well.
Also, check out: