A couple of years back, the only thing people thought cryptocurrencies can be used for is making transactions. Little did we know that a cryptocurrency named Ethereum, which at first glance, looks just like the first cryptocurrency Bitcoin, but underneath would be very different from it, would make its introduction in the market, revolutionizing the blockchain technology. Ethereum soon became the backbone of the crypto industry, opening up a tremendous potential of applications it can be used for.
We all know the benefits of blockchain: Security, Transparency, and Traceability of data. However, we also know the catch with it: storing data on a blockchain gets expensive with the time. So, for storing the magnanimous amount of data we currently have, blockchain isn't the ideal fit.
A real example of that can be seen in the Ethereum market. Since its inception, Ethereum's blockchain offers smart contracts, dApps, token models, and the majority of the DeFi sector. Due to this, transaction costs (gas fees) for Ethereum have gone way high over the past few months. And this phenomenon is expected to grow even further if the network is not able to scale its blockchain.
Many solutions have been proposed and tested to circumvent this issue but a new crop of issues arise up after that. However, though, a project named Sekuritance has found an alternative approach that has the potential to work and fix the woes of blockchain we face today.
Overview
The Sekuritance RegTech is a single platform that allows you to run multiple regulatory, compliance, and monitoring queues and programs at institutions of every size. Due to its flexible structure, it provides a platform for every eGRC need, AML/CTF, CECL, FCPA, vendor management, beneficiary onboarding, investor check, card processing MFA checks, blockchain wallet checks, cyber-risk assessments, and other Business Process Management requirements.
Companies integrating to Sekuritance platform can offer their service through the platform's integrated Gateway which has the following features:
Secure, flexible and scalable platform
Fully dynamic multi-dimensional Risk engine
Advanced 'Holistic Screening Engine'
Dynamic workflows
Drag-and-drop configurability
Binary and RESTful APIs
Encryption at rest and in transit
High-speed horizontal scalability
Built for 3rd-party customization
Maximum automation, extension
Ecosystem
The Sekuritance RegTech suite consists of six unique services that bring all the compliance and verification/validation services under one roof attracting better pricing and more efficiency of data.
These services are:
Sekur.Vault: Module for securing your card and personal data storage. It also provides instant visibility and cost reduction of declined or incomplete transactions as well as removing PSP and acquirer dependency.
Sekur.MFA: Module for merchants to validate and process 3D checks before taking payment thereby protecting themselves.
Sekur.Alert: Module to build analytical reach in order to keep individual and corporate customers safe and assessing fraudulent activity on the network.
Sekur.Transact: Module to include KYC, KYB, KYT, AML, Sanction Screening, rule engine applications under the platform's roof.
Sekur.Trace: Module to trace and diminish activities leading to dodgy scams, darknet activity, and more.
Sekur.Certify: Module for users to claim controlling power certification on a particular wallet once a number of actions have been performed.
Team and Investors
The team behind Sekuritance is a group of industry veterans and technical innovators along with growing tech, operations, compliance and business development teams of 15 individuals:
Jonathan Camilleri Bowman – Jonathan has over 20 years of commercial software development with the last 10 dedicated to enterprise multi-national fintech organizations and product offerings.
Jan Gatt – Jan has 13 years of experience in app & platform development for the finance, banking and gaming sectors.
Jeff Kirdeikis – Jeff is the CEO of TrustSwap and is an advisor to multiple successful blockchain companies.
Richard Beaton – Richard has over 20 years of payments, fintech and business building as well as a technologically and commercially savvy track record of product innovation, successful technical delivery and company building.
Dr Jade Fenech – She holds a Bachelor of Laws and Master of Advocacy from the University of Malta and her primary areas of practise are corporate and commercial law, financial services and fintech.
Yuliya Kherenova – Yuliya has been holding senior positions with a focus on team leadership, communications and negotiation, strategic planning, business development and market analysis.
Melody Wigdahl – Melody is a 25 year veteran of the payments industry bringing a wealth of knowledge to the Sekuritance team.
The platform is backed by a number of investors in the crypto and blockchain industry:
LVT Capital – Venture capital and private equity firm.
Gate.io – Blockchain Assets exchange.
JRR Capital – Fin-tech grow focused on exploring blockchain projects.
DCI – Independent asset management firm specializing in investment grade and high yield corporate credit strategies.
Raptor – Diversified financial services firm providing investment management and advisory services.
Moonwhale – An STO Financial advisory offering strategic advice on STO process and structure.
Wintermute – Global crypto market maker focused on proprietary trading.
SKRT Token
The platform has its own token: SKRT Token. This utility token will leverage the permanent immutable nature of blockchain technology. This will also underpin a new independent digital economy for RegTech compliance, security, transaction monitoring and storage applications.
The primary function of the token is to process and log compliances, regulatory security, and payment-related verification tasks. SKRT is designed to be 'future-proof' against the potential availability of improved blockchain protocols and consumer & enterprise security applications.
SKRT is a blockchain-agnostic token. What this means is, the token can run on public and private chains alike. Due to this, SKRT holds the potential of its own for the future of blockchain technology as better blockchains continue to emerge.
Tokenomics and Vesting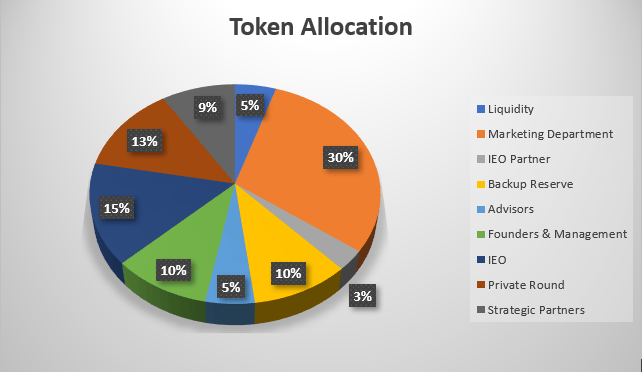 The total supply of SKRT tokens is 818,202,997 tokens. The price of each token at every occasion is mentioned below:
Private sale: $0.01 per token
Public Presale: $0.0225 per token (IEO)
DeFi liquidity launch: $0.0225 per token
The platform's token economy will not exhibit any growth due to product utility until the platform's blockchain integration is launched. It is scheduled for Q4 2021. Till then, price and market behavior of the token is determined by market sentiment and investor speculation. After the product suite is launched, the token's price will be driven by customer adoption and will grow exponentially during product launch and sales growth phases.
Roadmap
In the previous year, the company established two modules of its platform: Sekur.Vault and Sekur.Transact. The company also established its core team and announced its product roadmap.
As of now, the company has scheduled a token sale on TrustSwap on 8th May. Following that, the platform will also launch on exchanges including Uniswap and Gate.io.
Final Thoughts
Sekuritance unique approach address a major issue in the blockchain industry: Compliance challenges. By providing a single platform from where it is possible to run numerous regulatory screening solutions, transaction monitoring and secure data tokenization, Sekuritance tackles the majority compliance challenges in the blockchain industry in a single blow.
Furthermore, the platform also invites developers to connect to its platform and develop new ones further refining it.
Before this, the creation of new chains was a potential solution. But it had its downsides, such as risk of centralization, low security, scaling issues and general lack of trust.
Sekuritance acts as a hybrid architecture and tokenized entries in the blockchain to verify the legitimacy of the vault data.