In Today's guide, we will be setting up our own Solana (SOL) wallet or Sollet Wallet. And we will be seeing how to stake SOL into the Sollet Wallet. If you follow the steps below correctly, then you will be able to create your own Sollet Waller in no time. Let's get started.
To create your Solana Wallet, we use Solana SPL Token Wallet (sollet.io). It is an open-source non-custodial browser base web wallet. It was created by the Project team of Serum(DEX). Furthermore, when you create a new wallet, you get provided with a 24-word mnemonic seed. KINDLY SAVE THIS INFORMATION IMMEDIATELY.
Creating a Sollet Wallet
Step 1. Go to https://www.sollet.io/. The landing page will place you to "Create New Wallet". You will be provided with a 24-word mnemonic seed. Download it or take a screenshot for future use. Now click on the tick box to confirm "I have saved these words in a safe place".
Note: Be aware that you would not be able to recover any of your coins if you ever lose the seed code.
Step 2. Now you have to input the seed words in the dialogue box and click on "Continue".
Step 3. Now set up a password and click on "Create Wallet". However, password creation is optional, as you can see below. But it will be safe to secure your wallet further. Remember, the seed code is and always will be the actual password to your sollet wallet.
After clicking on Create Wallet, your wallet will be ready. These next few steps will tell you how to obtain SOL coins in your wallet.
Step 4. You can buy SOL coins from FTX or Binance. After buying send it to your newly created Sollet Wallet. Here we will be using FTX Cryptocurrency Derivatives Exchange.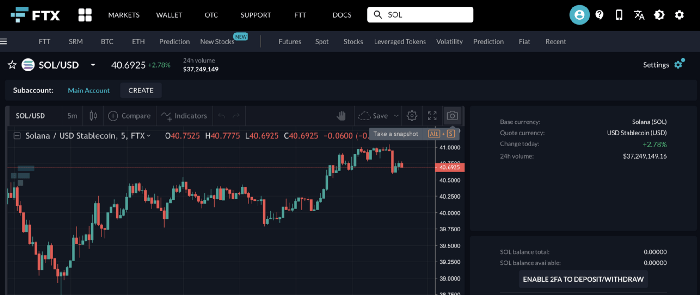 Step 5. For Example, taking $USDC. Click on the '+' icon where you see your main balances.
Step 6. Now a drop-down menu will appear. Select $USD Coin and click on the "ADD" option.
All done. Congratulations you have successfully created your own Sollet Wallet and have added $USD Coins to it as well. Also, remember that every coin or token comes with a specific address. This corresponding address further can be used for any future transactions related to that token on the Solana Platform.
Also, check out: