In the past couple of months, DeFi has become more than just a buzzword. Decentralized Finance is opening up a lot of possibilities that never existed before, and we're constantly seeing a lot of innovations in this space too. One such project that piqued our interest is DeHive. As mentioned in our DeHive overview, it aims to offer one token that can represent the entire DeFi market. It does sound audacious, and that's why we were excited to talk about it with the CEO and co-founder, Sergey Onyshchenko. Worth noting that DeHive isn't an independent company as its incubated by Blaize.tech, a notable blockchain development firm. Do note that the interview has been slightly edited for the purpose of clarity.
Read: Top 5 DeFi projects to watch out!
1. Blaize.tech has launched multiple projects in the blockchain ecosystem. What were the major takeaways from the journey so far?
Right, Blaize team has more than 4 years of experience in blockchain technology development and has gathered a team of real experts in the field. What I have understood so far is that the team is the core for any type of activities and is extremely important while launching blockchain and DLT projects. The synergy of team members is important.
One of the most difficult cases on our way was carried out for our partner Remme. The challenge was to modify the whole mechanics of a DPOS (Delegated Proof of Stake) network, which meant that we had to rebuild the DPOS network. We had been doing it for 4 months along with a team of 5 people. It was difficult, but at the same time, extremely interesting task.
2. Which has been your most successful project till date and how is it shaping up?
Blaize partners with a number of prosperous projects like Zokyo, Remme, Everstake, Breaker. Naming them as partners does not mean delivering one successful project, this is ongoing cooperation on the daily basis. Therefore, I can say that Blaize is so pleased that we can make our small contribution to the prosperity of those we are partnering us with right now.
I see the delivery of SnglsDAO as one of the biggest achievements so far. snglsDAO represents a DAO governance layer for SingularDTV project. Blaize team has to perform both back-end and front-end development along with blockchain-based part for this project and creation of a convenient and useful UX. So, I think this might be one of the greatest jobs we have done, since it needed the maximum involvement from both dev and management teams.
3. How did DeHive happen? What was the inspiration/ idea behind launching it?
The idea of developing our own in-house project has been crossing my mind for a while. In Blaize we had a chance to work with top-notch blockchain-based projects and provide solutions for them. And now, when we have gathered the needed experience and right knowledge about the market, I think we are ready to deliver the solution that is needed and that many can benefit from.
In the rough explanation, DeHive platform will provide its users with a first-to-market decentralized crypto index protocol. The platform allows anyone to become a holder of the top DeFi tokens packed into one index. This index comprises leading DeFi assets that serve as a benchmark for the economic health of the crypto market.
The current solutions are based on the AMM-like strategies that are not truly economically sound and correct in terms of creating an index. With DeHive we want to change it and bring the true and authentic protocol to the DeFi space.
4. How is DeHive decentralized since you're holding a basket of DeFi tokens? How are you deciding which tokens to hold and what are the prioritization factors?
DeHive platform ensures decentralization through the independent mechanism of acquiring and storing tokens. DeHive is a smart contract driven solution. Our underlying list for the indexes is based on the thorough analysis by the DeFi experts and experienced traders, as well as general token performing on the market.
The indexes can be used as a tool for market assessment, that is what we strive to implement for DeFi. As far as DeHIve index is completely decentralized, and market regulated, it can perfectly fulfil this task.
5. Will the platform have only one index or we can see other indexes with each having its own objectives like long-term growth but low volatility, and high growth but high volatility, etc?
We plan to issue several indexes that represent and combine different parts of the blockchain market, DEX tokens' index, NFT's index, perpetuals' index, etc.
6. If users are holding the DeHive Index would they need to hold/subscribe for a minimum duration before they can cash out?
No, we only have a cooldown period of 1 day after the index purchase. It is done in order to prevent assets rebalancing and any arbitrage possibilities which can affect holders.
7. Will the tokens be bought by the platform itself and then made available in the index or the tokens will be available as per the requirement of the buyers?
The DeHive mechanism of index issuing will looks as follows:
The user will make an initial contribution in ETH
The system accepts and calculates how many indexes he will get. This process is driven by the set of in-built decentralized oracles that checks for the actual prices of tokens that are included in the chosen index.
Then, the algorithm recalculates the weights of the underlying and issues index (or indexes) in the corresponding amount.
The algorithm redeems the underlying assets and stores them on the platform assigned to the user.
So, yes – the tokens are bought by the platform itself and security kept bound to the user. The user can always check the values of underlying which back his amount of index.
8. What's the commission structure for DeHive?
First of all, there is no commission needed to acquire any of the DeHive indexes. The commission system is simple:
1) There is a small amount of DHV required for index redemption. That amount goes to the treasury. Also, if the user does not have DHV, he pays extra ETH and the platform buys DHV itself and sends it to the treasury.
2) There's a performance fee for yield farming upon staked indexes within the platform. This commission goes either to the protocol treasury for economy stimulating (for platform indexes) or serves as incentivization for custom indexes creators.
9.Your roadmap mentions NFT Index in the pipeline. Tell us a bit more about it. Can you share any timelines?
Yeah, sure. NFT is rocking right now, and we are sure this will continue in the future as well. According to our roadmap, we plan to start the development of NFT index model at the mid-end of Q3, 2021. Then, the world should see the MVP in Q4, 2021.
At the moment, we are working on the core part of the product and focusing on meeting the deadlines. So, we can't say much, and we do not want to disclose solution details on such an early stage. But we can say that we are thinking in several directions: indexing of NFT protocols, using NFT as a tool of index representation, and providing utility value for NFTs within the protocol.
Currently we are meeting all deadlines we have established in our pipeline, will do our best to keep up with everything in the future.
10. In the future, will DeHive act as a platform with different indexes that the user can buy instead of buying individual assets?
Yes, we want to get to build such a platform in its ideal stage. The user can purchase the index through or with the help of the DeHive platform. as far as we do not charge any fees for index issuing. The DeHive platform gives the ability to diversify and therefore secure users' crypto portfolio through holding one (chosen) index. The index represents the set of underlying assets which are redeemed and assigned to the user as long as he preserves the index.
The DeHive protocol will possess several indexes issued by the platform as well as custom indexes that are proposed and implemented through DAO mechanism.
11. What are the security protocols being followed by DeHive?
We provide a very severe security process.
First of all, we provide CI/CD for security, so each feature implemented in smart contracts goes through several checks with security tools like Slither, Echidna, etc. We have a requirement for 100% unit test coverage for all features.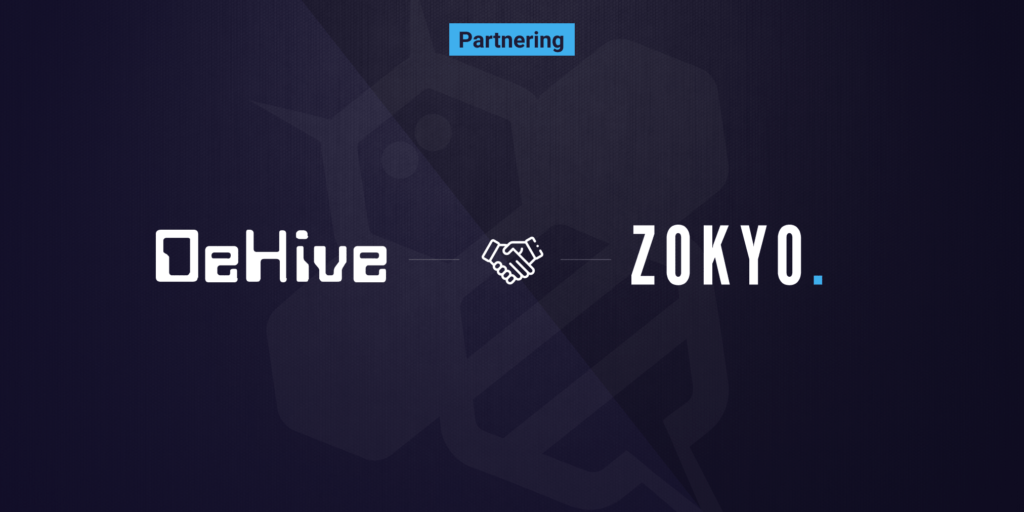 Also, we have an in-house team of experienced auditors which provide cross-check of newly developed features. And, last but not least, we have partnered with Zokyo, so our contracts will also pass an external security audit.
Additionally, we have a team of experienced in-house DevOps specialists, which follow the security process for the dApp deployment and hosting. Actually, while building the token sale page we have successfully prevented a few scammers attacks on our site and sold a dApp.