It's an age-old debate – is cryptocurrency a store of value (SoV) or medium of exchange? Well, the jury's still out on this one, but what we do know is that if you want to spend your cryptocurrency, it isn't easy. Especially, if you want to use it in an offline store. That's why cryptocurrency debit cards come into the picture. As the name suggests, they let you spend your crypto to purchase goods and services. So, if you are looking for the best crypto debit cards out there, then you've come to the right place. But before we begin, you must be wondering why we need them…
Why crypto debit cards are useful
As mentioned above, you could use them to spend the cryptocurrency. The best part is that these card providers have partnered with Visa or Mastercard so that you could use them anywhere without worrying about whether the place accepts cryptocurrency or not. Now, if you're asking why do we even need to use these cards in the first place, considering even normal debit/credit cards would also let you avail products or services, albeit by spending fiat. Well, that's where you'd be amazed to know the rewards that you can get by using these cards.
There's obvious downside to using crypto debit cards – the fact that the cryptocurrencies are volatile. However, if you do want to spend them, then these cards are the easiest way to do so. Another benefit of these cards is that you don't need a bank account for them.
Crypto.com
One of the most popular apps for buying and selling cryptocurrecies, Crypto.com offers a Visa card. Not only the card is lifetime free, but you can get rewards of up to 8 percent on using it. The Visa card is available in five tiers – from Midnight Blue to Obsidian (the highest tier). Do note that while the card is free, you'll need to stake your CRO tokens (the native cryptocurrency for Crypto.com). You do get some staking benefits however, such as free subscriptions to streaming services like Spotify and Netflix, 10 percent discount on booking sites like Airbnb and Expedia (most benefits are available in the flagship card – Obsidian).
There's also airport lounge access for the card owners. The highest-end cards also offer Crypto.com Private capability, and the option to earn bonus interest on your holdings, among other things. You can also withdraw USD from ATMs using Crypto.com cards.
Bitwala
Billing itself as the "debit card for the blockchain era", Bitwala is also a Visa card that could be used anywhere globally. Considering Bitwala is a bank itself, it lets you convert your cryptocurrency into fiat (Euro) on the fly to spend offline. The card also comes with a 3D secure feature to provide an additional layer of security for spending online. Bitwala also highlights the fact that there are no additional charges for using the card.
Wirex
Wirex is a service that lets you pay anywhere in the world using crypto or even traditional currency. It offers a slick app to manage your money and also comes with a free Visa card. What we like about this card is that there are no fees for fiat-to-fiat conversions, and withdrawals are also free. It supports over 150 currencies across the world, and for crypto lovers, you'll get 2 percent cashback on using the Wirex card in the form of WXT tokens (only available if you're staking them).
Binance Card
Binance – the world's largest cryptocurrency exchange – also offers a Visa card to its users. Supporting over 60 million merchants worldwide, the card can be used anywhere. As expected, the card is completely free and promises strong security mechanisms too. While it's a debit card, you need to have crypto in your wallet only when you want to make a transaction. What would attract you towards the Binance card the most is the fact it promises up to 8 percent cashback.
Coinbase Card
Coinbase, a company that is about to IPO soon, also offers a cryptocurrency card. Similar to the ones mentioned above, it's a Visa debit card and lets you spend your crypto anywhere in the world. Connected with the Coinbase app, which is known for its ease of use, you can use the card and track your usage easily.
CoinZoom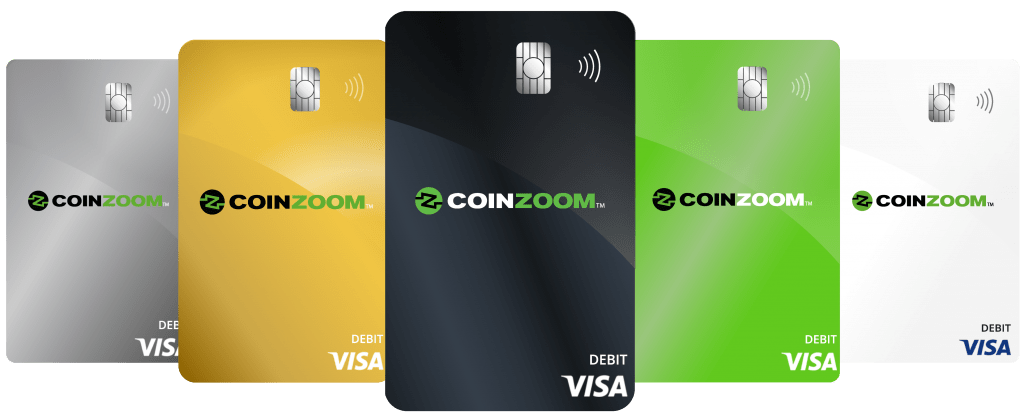 Another exchange that offers a Visa Debit card is CoinZoom, which has as many as five tiers for its users. One can opt for the base card dubbed Select, and go all the way up to Black. Depending upon the card you opt for, you can get up to 5 percent rewards back, a discount on the trading fees on CoinZoom, the ability to remit money globally through ZoomMe Global, referral rewards, and more. Similar to most other cards, you'll need to stake some crypto holdings to avail the free card, and in this case, the staking is for ZOOM tokens. Users would also be eligible for AirDrops for new coin listings or promotional airdrops.
Eidoo
Calling itself the "Debit card for the DeFi economy", Eidoo lets you hold DeFi projects and spend them using the debit card. The projects that the exchange supports are Compound, Bancor, Maker, WBTC, Kyber, and more. The card also lets you get up to 10 percent crypto cashback. The tiers include Basic, VIP, and Black accounts. You can also manage your holdings or transact easily through Eidoo's mobile apps.
Of course, these aren't the only crypto cards out there. There are Nexo and BlockFi which are currently soliciting interest, but seems like great options for users who want to spend cryptocurrencies and earn rewards in the process. Then there's BitPay which offers a debit card in partnership with Mastercard, though it isn't completely free. Which crypto card caught your attention? Let us know in the comments below.