Amidst the global crunch moving across markets, Bitcoin (BTC) has stooped to a new low. As of writing, Bitcoin (BTC) has just recovered from a new low of ~$26,000.
Crypto has come under some pressure from many factors alongside traditional stocks. This is majorly due to investors and money managers pulling money out of markets. This became expected after the federal reserve of the United States increased interest rates in the country.
Besides Bitcoin, Ethereum also faced similar drops, going below the ~$2,000 mark. It even went as low as ~$1,800 after recovering back to ~$1,960.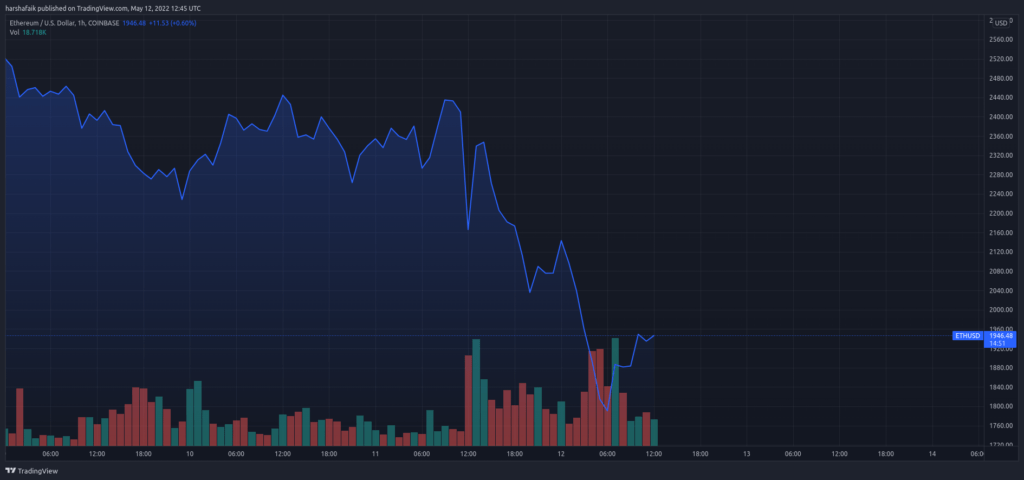 While many macroeconomic factors have affected the price of popular cryptocurrencies, some instability inside crypto markets has also played its part. Most recently, the downfall of stablecoin UST really played spoilsport to the premier crypto. Traders traded USDT for the U.S. dollar amid poor sentiment for stablecoins.
Bitcoin and Ethereum are not the only ones affected by this substantial drop. Other cryptocurrencies such as XRP fell by around 34%, Solana lost about 38%, Cardano lost about 35% and Polkadot tanked 32%.
Besides them, meme coins also faced the drop as DOGE dropped by around 35%. Also, Shiba Inu lost about 38% making it a tough day for crypto across the market.
Although Bitcoin stooped to as low as ~$26,200, the premier crypto has recovered a bit to around $28,301 as of writing. However, we'll have to wait for a while to see if Bitcoin stabilizes at this mark or could spell more trouble for investors in the future.
Related Stories: