Some people in the cryptocurrency space panicked as BTC slipped to the $45k mark today. But in another interesting development, El Salvador's president made another big announcement and shocked others. On Monday morning, as the price of Bitcoin plummeted below $46,000, Salvadoran President Nayib Bukele stated on Twitter that the country had "bought the dip." The Central American government currently has 700 BTC after acquiring 150 additional coins.
President also asked the people to buy the dip. He said, "They can never beat you if you buy the dips".
Reasons why BTC fell down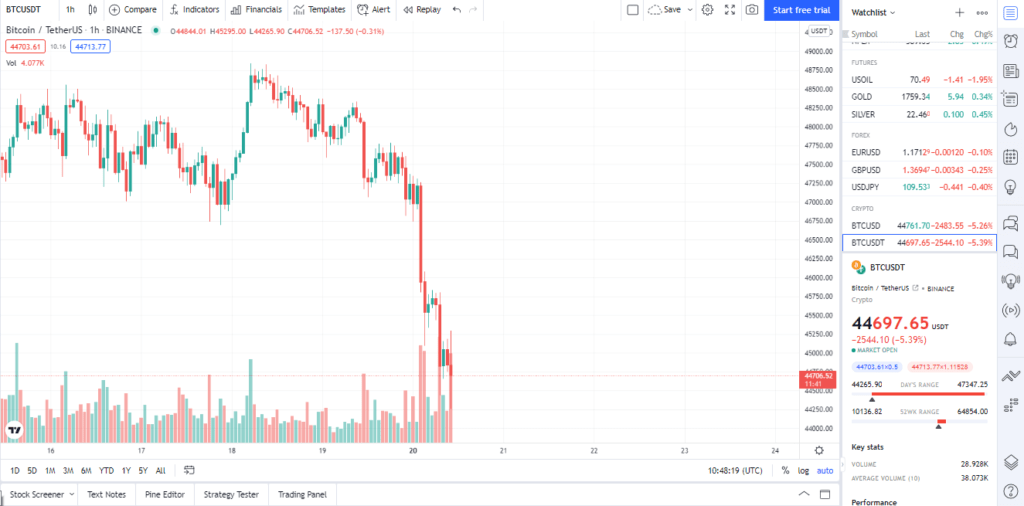 The leading cryptocurrency by market value is currently priced at $45,114, a 5% decrease from the previous day. The broader market is a sea of red, with ether, Cardano, and Solana suffering losses of up to 7%.
Concerns over China, as well as caution ahead of this week's Federal Reserve meeting, weighed on U.S. stock index futures. In addition, the possibility that the US government would deem stablecoins a threat to the financial system could add to the market's anxiety.
According to a Sunday article in The New York Times US regulators are concerned that stablecoins will become volatile. Furthermore, it might bring dollar-pegged currencies under regulatory purview by declaring them a risk to the financial system or treating them as securities, money market mutual funds, or banks. While Washington's dissatisfaction with stablecoins is not new, the fact that mainstream media outlets ran a cover story on the subject signals that regulation is on the way.
Combined with the quarterly bitcoin options expiry on Friday, these difficulties might keep the cryptocurrency volatile this week. However, according to some market gurus, the underlying trend will remain optimistic as long as bitcoin remains above $40,000. This is 2nd time in 20 days of the month that BTC has slipped below the 45k mark.
Related Stories