While cryptocurrencies are said to be the future of payments, there's no denying that people still see them with scepticism. Yet, they have permeated their way to all sorts of businesses, even if not necessarily for being used as a medium of exchange. So whether there are companies that have Bitcoin on their balance sheet or those that accept cryptocurrency as payments – we'll talk about all of them in this piece today. Worth noting that we won't be focusing on the companies that have been built for solving crypto needs, be it exchanges like Coinbase or wallets like Ledger. Instead, the piece would talk about conventional companies that have started adopting digital currencies in one way or the other.
Businesses that accept cryptocurrency as payments
As an internet-native currency, online businesses took to cryptocurrencies. Overstock is a popular store that did the same, and today, many others offer the same functionality. From the popular electronic items seller (Newegg) to Shopify, which enables small businesses to come online, they all accept cryptocurrencies.
Of course, there are other companies than e-commerce businesses that accept cryptocurrencies. The most popular example is Starbucks which supports crypto payments through its app.
Businesses that let you buy or sell cryptocurrencies
As mentioned earlier, we aren't talking about crypto companies but others that offer this functionality. Of course, among the biggest names is Paypal, a popular service to send or receive money from anywhere in the world. Just last year, it started offering the ability to buy and sell cryptocurrencies. Then there's Square's Cash app which makes buying or selling crypto quite easy. Finally, the popular no-fee trading app Robinhood also deserves mention.
Businesses that let you use cryptocurrencies
Well, gaming is the most common example of businesses of this kind. The game that everyone is talking about lately is Axie Infinity whose DAUs have crossed 1 million in August. It rewards cryptocurrencies to the players of the games. There's also Gods Unchained, a digital trading card game.

Of course, many of these games harness the capabilities of NFTs too, so it's evident that gaming businesses are at the forefront of crypto adoption.
Read: Top NFT Games that you can Play Right Now
Businesses that have cryptocurrencies on their balance sheet
With Bitcoin and virtual currencies emerging as alternate assets, many businesses are holding them on their balance sheet to offer better returns than cash. Among the most popular companies is MicroStrategy, with its CEO Michael Saylor being quite vocal about his belief in Bitcoin. Today, MicroStrategy has over 114,000 BTC.
Read: Top 5 public companies that hold the most Bitcoin
Even Tesla has 42,000 Bitcoin at an average price of $31,700 on its balance sheet. It even started accepting BTC for purchasing electric vehicles, but then it stopped because of Elon Musk's energy concerns. Other companies that have a significant amount of Bitcoin in their treasury include Galaxy Digital and Square.
Businesses that are enabling the payment infrastructure for cryptocurrencies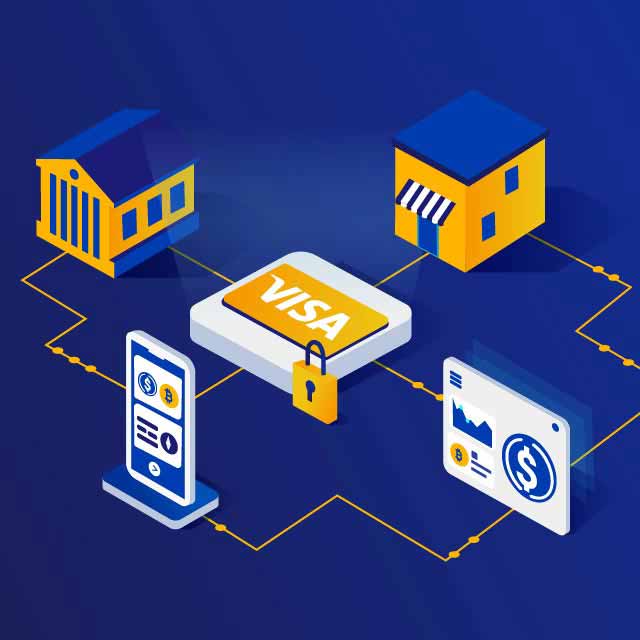 It's vital to have support for payments with traditional businesses, otherwise, cryptocurrencies won't have a wider reach. And that's why it's worth mentioning that payment infrastructure companies like Mastercard and Visa support crypto. That means that one can use crypto to make payments across 70,000 retailers in the world that accept Visa, for instance.