Many expected that the rise of crypto transactions would concentrate in the western region. However, according to recent research, emerging markets across the eastern region (Central & Southern Asia) are also witnessing rapid action in crypto.
Blockchain analytics firm Chainalysis has put out new research stating crypto transactions surged 706% in Central and Southern Asia compared to last year. This also includes Oceania, which is a broad region of countries including India, Pakistan, and Vietnam. The firm accounted for the data between July 2020 and June 2021. Moreover, looking at the number in terms of dollars, the figure stands at $572.5 billion.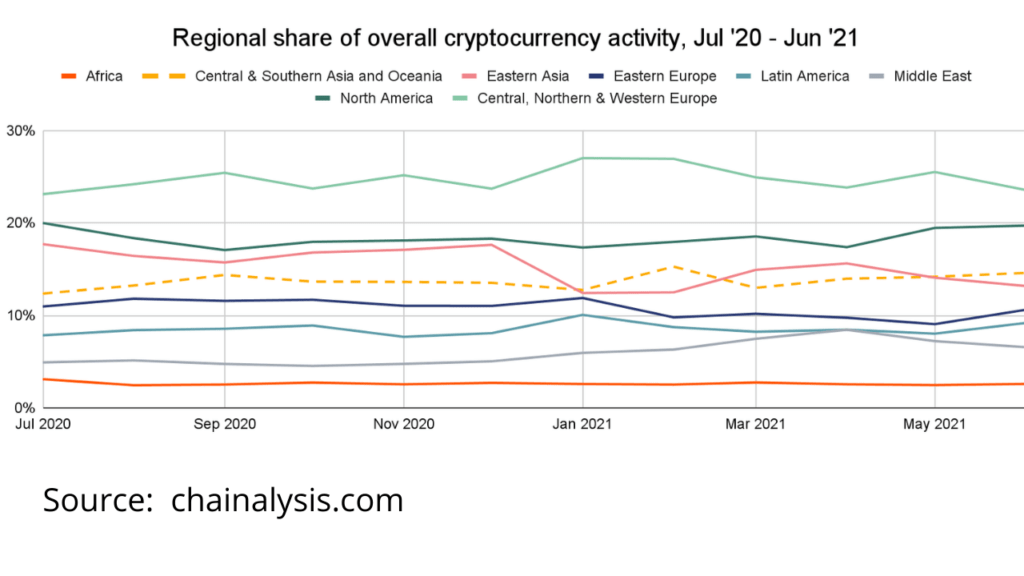 While this figure accounts for 14% of the global transaction value, it will grow given the population concentration. Looking at the data, Institutional and large payments contributed the most of the transactions. This also provides an overview of smart money adoption of crypto. India had the most articulate effect of such with 42% of transactions above $10 million.
Previously, Chainalysis had released the first report regarding the statistics for the European region. The region of Central, Northern, and Western Europe accounted for the most and it even established itself as the world's largest crypto economy.
The region had a total transaction volume of over $1 trillion over the 12 months. The institutional transactions in Europe jumped to $46.3 billion in June 2021, up from $1.4 billion in July 2020.
While Europe shows strength in crypto transactions, Asian countries are leading through the overall adoption rate. According to Chainalysis, Vietnam, India & Pakistan ranked first through third, respectively. The performance metrics for that included on-chain value received, on-chain retail transactions, and peer-to-peer transaction volumes.
Related Stories: