Graphics card manufacturer Nvidia is silently reintroducing hash rate limiter in an effort to disincentivize cryptocurrency miners.
The company issued the GeForce 466.27 driver reintroducing the RTX 3060 cryptomining limiter.

According to computer news site Videocardz, Nvidia will come up with the new 'Lite Hash Rate' models in mid-may which will cater to the mining audience.
The gaming giant has originally limited the hash on the previous models, reducing mining performance by 50%. Head of global GeForce marketing, Matt Wuebbling, said in a blog post:
"We designed GeForce GPUs for gamers, and gamers are clamoring for more."
The limitation did not last long as Hackers came up with a workaround of downgrading to a older driver version. Also, a driver update inadvertently unlocked this 'limiter' unleashing the card's potential of 118 Mh/s, enabling mining of Ethereum and other cryptocurrencies.
The new cards are said to be similar except their new PCI device ID of 2503. What that means is, with the new 470.05 driver update, the new ID will render them useless thereby enforcing a 'limiter'.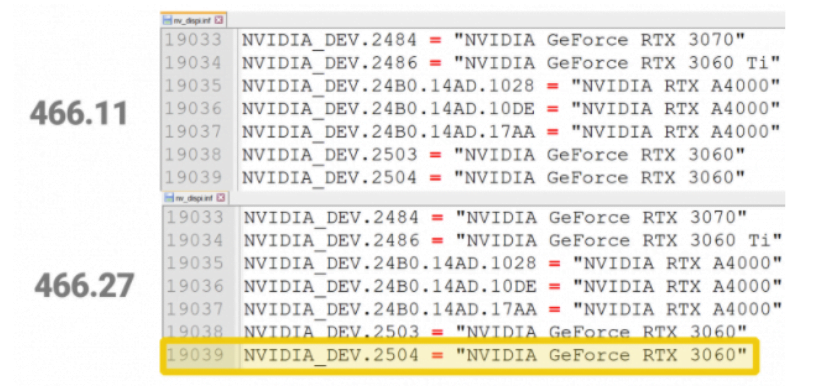 The news has received a mixed response among the community. A forum user 'Eric W' stated that the move will sideline small home miners. These miners are often gamers who use the graphics card while the system isn't being used.
"Well this is a mixed bag. I want to buy a new gpu for gaming, but I also mine when I'm not actively playing games… I can't buy a mining gpu because Nvidia seems to only sell them in quantities of several thousand and I have no interest in having 100s of mining rigs."