A lot of people in this world have a knack for creative work. Whether it be music, books, videos or art, creative work is not only a stress-buster but through monetization, could even become a fruitful profession. Anyone who creates such stuff gives it a lot of time, resources for others to enjoy. Through monetization, they receive their rightful earnings which allows them to continue their creations.
But the process of stating their claim on their creative work is: Slow, Tedious and Expensive. Result? A lot of creators have their work ripped off daily.
Let me give you some statistics. According to a study from Copytrack, 85% of all photos you see on the internet don't have a valid copyright license.
Ureeqa wants to change that, by providing a package of proof that creators can use as a way to 'attack' or 'defend' their creative work.
What is Ureeqa?
Ureeqa is a platform offering creators to manage and protect their creative work from copyright infringements. By combining the power of blockchain with a globally trained and certified team of Protectors and Validators, Ureeqa aims to protect your work and your revenue.
How does it work?
What exactly Ureeqa offers a platform where is that creators stake their claims on the platform. The submitted work goes through a global network of Validators working together to determine the ownership and originality of the work. All this happens in a couple of minutes. Those validators earn their revenue in the form of URQA ERC-20 tokens.
After verification, a Non-Fungible Token (NFT) is minted and added to the platform's Premium Protected Collection.
The owner receives a QR code which is considered as a credible seal of validation. When scanned, this code will take the user to the platform's Premium Protected Page. Here, all the details of the work and creator are visible along with the validation process carried out.
What if there's a copyright dispute?
Just like Validators validate the submitted work, another team of trained and certified Protectors work to find out and report cases of infringement of the items present in the Premium Protected Collection.
To clear out the situation, the creator has the option of sending demand letters through the platform with links to pay the amounts specified by the creator.
Tokenomics
URQA Token powers the entire platform. This token is implemented over the Ethereum blockchain as an ERC20-compatible token. The tokenization of the network allows users and token holders to not only benefit from rewards within the community but also UREEQA's growth.
The URQA token is an ERC20 compatible token on the Ethereum blockchain. Ureeqa's NFTs will be implemented as ERC721 tokens. The compatibility with the ERC20 token leverages Ethereum's development tools, wide wallet and exchange adoption and developer expertise.
URQA tokens will be distributed according to the chart shown below.
Private Sales – Tokens earned by Consumers on the platform.
Validator/Protector Payments – Tokens generated and transferred to the Validators and Protectors.
Team – Tokens for the team managing the platform.
Business Development & Operations – Tokens for platform management as well as future improvements.
Marketing – Tokens for the marketing department.
Advisors – Tokens for the advisory board of the platform.
Staking Rewards – Tokens for the reward earned by staking.
A portion of revenue generated by UREEQA is used to repurchase URQA tokens on the open market which are transferred to UREEQA's Community Enrichment Wallet. This Wallet provides token holders with a say in the UREEQA ecosystem. Like, the community can opt to payout URQA tokens to wallet holders, create special campaigns, or re-invest in the UREEQA ecosystem.
Who's the team behind the platform?
The UREEQA concept was created as a collaboration between KAIN capital an KAIN LABS. One of the top teams in cryptocurrency world was also included and assembled to bring it to fruition.
Harsh Khandelwal – CEO of Ureeqa
Robert Eccles – COO of the platform.
Shannon Powell – CMO of the platform.
Partnership with VersoView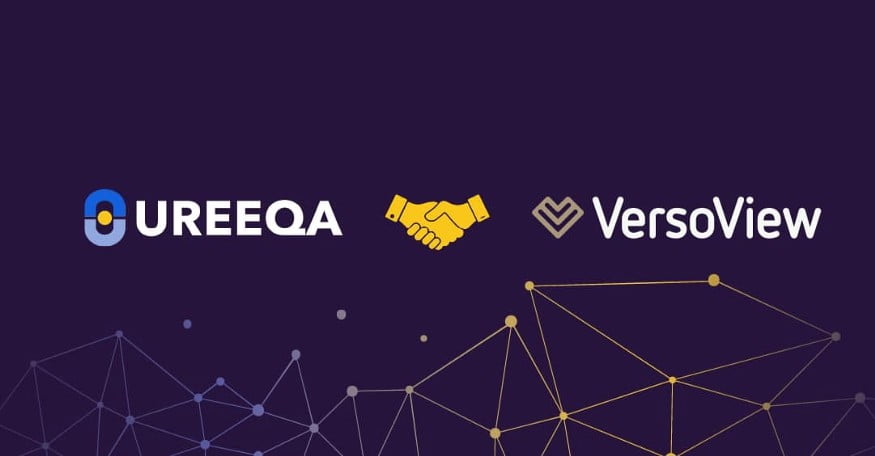 VersoView is an engagement and rewards platform hosting branded Decentralized Finance (DeFi) ecosystems. With UREEQA by their side, VersoView can enhance its publishing ecosystem by using UREEQA's blockchain technology solution to allow content creators to manage and monetize their creative work.
CEO of VersoView, Julian Jordan said,
"With over twenty-five years of experience in publishing, we understand the need for faster, immutable IP protection options. Traditional copyright processes are expensive, time consuming and still require expensive legal fees if we are even able to locate the infringing materials. Our clients stand to benefit greatly from UREEQA's cost effective solution."
Launch Date?
As of Now, UREEQA is at closed beta stage, in an MVP (Minimum Viable Product) state. A public MVP launch could be seen in the second quarter of this year with University/Community college partnerships, Ambassador Marketing and a complete Protector Training and certification program.
Right around the third quarter, the protector network will be available offering staking rewards platform, Rollout of Validator/Protector Early Incentive program as well as an Enforcement Dashboard and a Launch Protector Network. After third quarter, the platform will be available for Corporate clients with their KPI Dashboard, Launch Protected DAO collection, Launch Corporate Plan and Support for WIPO/ External Copyright claims (BYOC).