In 2020, virtual gaming, betting and the predictions based gaming industry generated above $750 billion in revenues and in 2021 it is expected to set a new record. But, the industry was plagued with a lot of issues to name a few:
Misuse of Insider information
Making the market artificially
No Auditing and internal controls
No regulation and User privacy
So is there a way to address the bottlenecks and make the industry grows and instil confidence among users? Let Explore.
DEFI11 makes an entry:
DEFI11 is a purpose-built DeFi gaming platform that promises to remove frauds and lack of transparency. A traditional flaw in centralized Fantasy Sports applications. Claiming to be a first-of-its-kind offering designed to cater to the Gen Z population engrossed in sports, the platform offers the following features:
Fantasy Sports
Betting
NFT Gaming
Liquidity Pool
Staking
Swapping
Rewards and Incentives
DEFI11 aims to fix the pain points present in current centralized offerings through its decentralized infrastructure. As the name suggests, since all the data is not allocated at a single point, and the current security standards of cryptography, it is virtually impossible to mess with the blockchain which is the basis of such platforms. Not only that but the platform in fact provides more earnings with the capital you invested when compared to other offerings.
While buying assets in platforms using fiat currency, the amount you acquire is the same amount you pay. In DEFI11 however, buying a D11 token will provide you with an additional x% D11 token. The platform calls it a cashback point.
By staking and lock-up, you can generate additional D11 tokens using your existing tokens. Through this, the user can generate game points that can be used to join contests or prediction contracts. Also, periodic airdrops will be happening on the parachains for better engagement in the game.
The timing of the platform couldn't be better given the IPL season is going on right now. Our sources have informed us that M.S Dhoni may be signed as the ambassador for the DEFI11 platform.
Team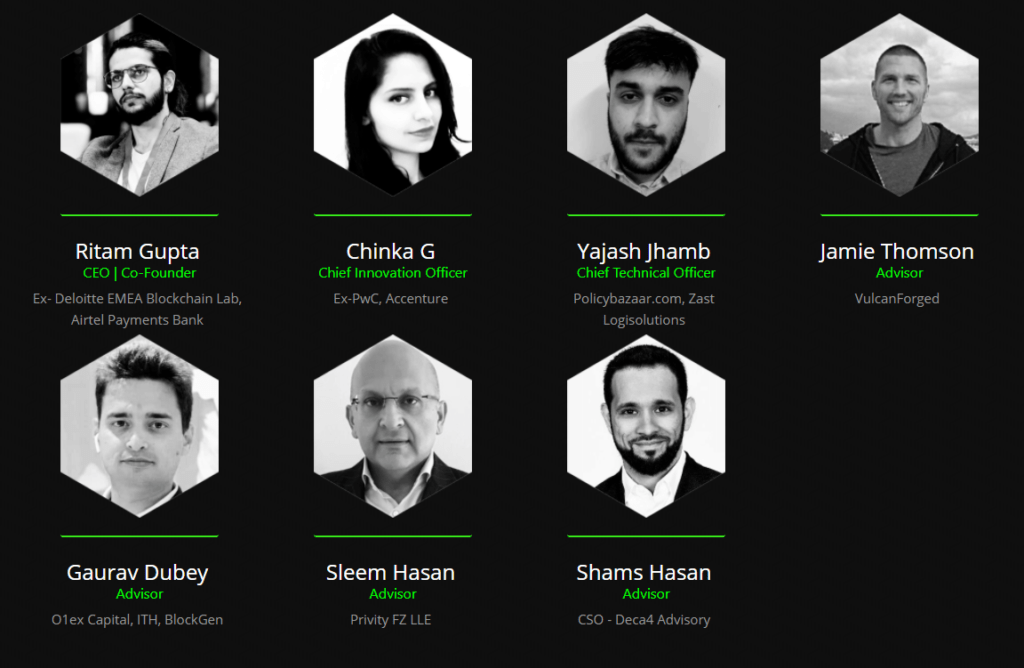 The team is backed by a dedicated team of developers, artists and programmers with over 10 years of cumulative Blockchain experience & 30 years of Industry experience:
Ritam Gupta (CEO & Co-founder) – With over 5 years of industry experience in Digital Transformation and Blockchain Domain, He heads the project.
Chinka Gupta – Chief Innovation Officer, Ex-PwC and Accenture
Yajash Jhamb – Chief Technical Officer, Policybazaar.com, Zast Logisolutions
Advisors to this platform include:
Jamie Thomson – VulcanForged
Gaurav Dubey – O1ex Capital, ITH, BlockGen
Sleem Hasan – Privity FZ LLE
Shams Hasan – CSO-Deca4 Advisory
Investors and Partners
The platform has partnered up with a number of companies that have years of experience in Blockchain technology and the 'NFT world'. These are:
NonceBlox – This company deals with building commercially scalable blockchain products.
TDeFi – A DeFi product accelerator firm providing startups with world-class mentors, industry connections, technology, marketing & community, exchanges, liquidity, and growth hacking partnerships.
VulcanForged – A cross-chain game studio and NFT marketplace.
1ex – An advanced crypto trading platform.
Biconomy – A technology company building transaction infrastructure for next-gen web 3 applications.
Moonwhale – An STO financial advisory based in the United States.
A195 Capital – An investment firm that provides capital to early-stage digital asset projects.
D11 Token
The platform operates on its native token: D11. It is built as a gaming utility token on top of the protocol to pay contest fees, buy assets, redeem game rewards. D11 Token is a fee settlement, staking, and loyalty token for the DeFi11 ecosystem and all the associated games arriving in the future. It facilitates additional functions such as a deterrent to bad actors and as a payment option, providing additional utility to its users.
The token's functioning are:
Fee settlement
Staking upon registration
Reward claiming
Game Dev Financing and Loyalty payments (for Game Players/ D11 Users)
DEFI11 Foundation
The platform's token system will be in conjunction with DEFI11 Foundation such that whenever these tokens are used for use of any type, the foundation will receive a transaction fee. Along with that, the demand for the tokens will grow due to its ecosystem operations in gaming, incentivizing the token holders.
Tokenomics
The total token supply will be 275 million. Out of those, 12.32% (33.9 million) tokens will be available at the token sale. The token sale will be in three saves starting with the Seed -> Private Sale -> Public sale. Details about each sale are given below:

Details regarding token allocation and vesting are mentioned below:
Staking
Newly registered customers/Game developers can stake a floating amount of tokens which will act as a guarantee of proper conduct and as an additional incentive token to provide an optimal gaming experience. The platform has a strict policy and any user not acting in good faith will be at risk of losing this deposit. Meanwhile, those tokens will double the benefit to the platform users:
If the token value appreciates in value, users can unstake part of their tokens and sell them for a profit.
If the token value depreciates, users can "sell their stake" at a slight discount to other users wishing to enter the platform, allowing themselves to break even their stake.
Roadmap
The project's timeline is spread out into eight quarters:
Q1, 2021 – Token PreSale
Q2, 2021 – Token CrowdSale & Alpha Launch
Q3, 2021 – Beta Launch
Q4, 2021 – Public Release and Token Exchange Listing
Q1, 2022 – Staking Programme and Liquidity Pool Inclusion
Q2, 2022 – Governance Token
Q3, 2022 – Expansion: Field Hockey, Tennis, Volleyball
Q4, 2022 – NFT Player Marketplace
IDO Launch for the platform is planned in Mid-May. The platform is planning to create cricket player cards as NFTs and provide them in the NFT player marketplace. Basically, cricket player cards as NFTs would be a licensed digital collectible whose value can appreciate/deappreciate in the future. The concept of cricket players as NFTs has a striking resemblance with the NBA Top shot, where the raging moments in the sport are captured, built on a blockchain and made available through NFTs.
Final Thoughts
A lot of fantasy sports offerings presently available in the market have the native limitations of centralized architecture and an array of "inconvenient experiences" leaves a huge void in the market for a potential alternative. DEFI11 wants to capture that market by offering a decentralized fantasy sports offering with a suite of features. Moreover, with the inherent advantages of DeFi infrastructure, the platform seeks a ready market for in the virtual gaming, betting, and predictions industry.