The world of crypto has been growing at an unprecedented pace. Not only, but we're also seeing a spike in the prices of cryptocurrencies such as Bitcoin and Ethereum we're seeing several innovative projects in the space too. One key area where a lot of these projects focus on is trading since that's when it's believed that Wall Street will start taking it seriously. And yet, most such projects just bring traditional functionality to crypto trading? What if there could be one platform that lets you trade both crypto and traditional assets?
Enter Duet Protocol. True to its name, it offers an off/on-ramp between traditional assets like stocks and crypto assets. If this caught your interest, then read on to find more about the project.
Overview
To understand the project better, let's see how the developers promote it: they claim that Duet Protocol will enable "a parallel universe which turns flat assets into sharp assets". Simply put, the protocol lets you turn real-world assets into synthetic assets and then trade them. You can also enjoy usual features such as collateralizing the assets for investments and more.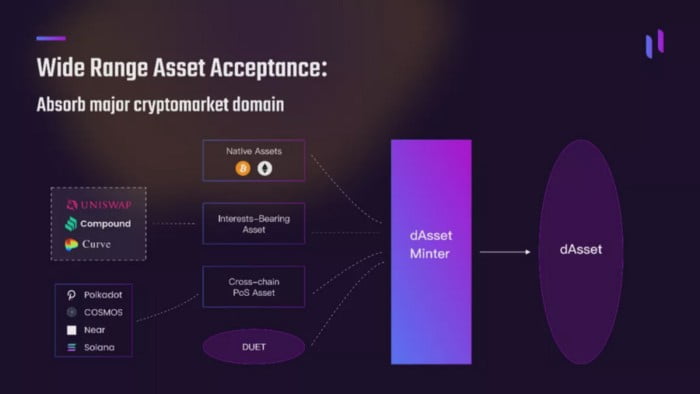 That's not it, the project will also support multiple chains. While initially, it'll work on Ethereum, the developers would also add support for Binance Smart Chain, and Solana, among others. In the future, Duet Protocol also aims to offer a wallet that can let you hold both crypto and traditional assets in one place.
Team
The team behind Duet Protocol has a rich experience in various cryptocurrencies and blockchain projects. These include:
Dr. Peter IIyich Tchaikovsky (Core Member): founder of OmbiBOLT, the world's first stablecoin circulation specification for Lighting Network based on OmniLayer
Tomomi Nishimoto (Core Member): partner at cross-border VC fund with over 40 investments.
J. Back (Core Member): former China-based Chief researched of the world's largest crypto exchange
Verdi (Development): Core developer at OmbiBOLT
Antonio Salieri (Operations): working in China and Southeast Asia for 6+ years
Wolfgang Mozart (Incubator): having a rich experience in on-off ramps, staking, derivatives, and multichain products
F.J. Haydn (Development): Over 8 years of experience working in the blockchain industry
Er Nie (Development): Over 5 years of experience in blockchain research
Backers
Recently, Duet Protocol raised $3 million in funding in its fist funding round. Its investors include OmbiLAB, Draper Dragon, Moonwhale Ventures, Cabin VC, ArkStream Capital, and more.
Tokenomics
Duet Protocol has a native token with the same name. $DUET will let you participate in minting of assets, farming, providing liquidity, etc. Token holders will also be able to swap and lend.
Like most protocols, Duet Protocol will need to burned to mint dAssets (digital assets to replicate the real-life assets) or vice versa. And $DUET holders will also be able to stake their holdings as well as participate in community governance.
Vesting
The supply of the Duet tokens is capped at 420 million initially (inspired by The Hitchhiker's Guide to the Galaxy, where 42 is the ultimate answer). Worth noting that the maximum supply of the token can't be ascertained since tokens will be minted and burned.
Here's the distribution plan for the $DUET token for various stakeholders.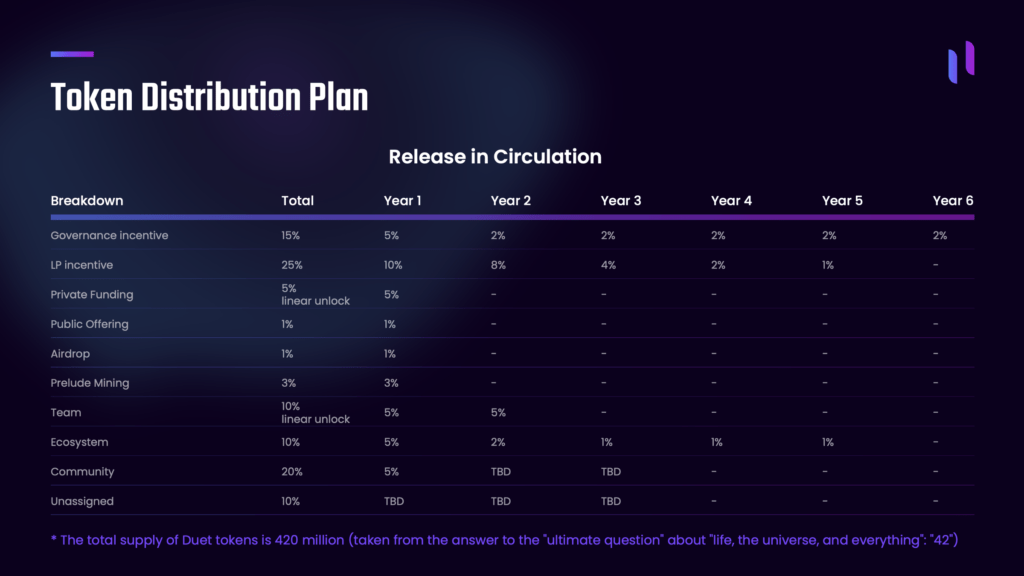 Use cases
The main aim of the Duet Protocol is providing the ability to turn real-world assets into tradeable assets on a blockchain. Users can over-collateralize their crypto tokens to turn traditional assets into dAssets. Interestingly, along with usual cryptocurrencies, the project allows yield-bearing tokens as well such as yToken, cToken, and LPToken. And as mentioned above, the protocol will support multiple chains too.
Moreover, even the collateral put by the user will be eligible for yield staking giving them a chance to earn the interest.
A two-way conversion happens between the DUET Token and dAsset, with the former getting burned to mint the latter. In addition, the exchange rate between DUET and dAsset is determined by Oracle, and of course, dAssets can be used to mint DUET tokens too.
How it works?
Let's consider that you want to purchase Tesla's stock using Duet Protocol.
You'd deposit 1 ETH (or any other supported crypto asset) and DUET tokens to lock them into a smart contract, called as Collateralized Debt Position (CDP) as collateral
Based on the collateral parameters (LTV of 1/3), you'd get dTSLA worth 1/3 of your CDP
If you want to get collateral back, then you'll need to return dTSLA and you'll get back the locked ETH and DUET tokens
Roadmap
The Duet tokens will be introduced via an IDO, which will be held this month. In this month, the protocol would launch on Ethereum as well. In the month of June, the IDO will be held for launching on BSC (or any other Ethereum Virtual Machine blockchain).
The project will launch swap and lending modules, the ability to dock dAssets, and support for more chains in Q3. The last quarter of the year will see atomic cross-chain transactions of dAssets based on the ZK solution and the launch of a community-based asset management platform.
Next year, we'll see support for more than 500 core assets from the traditional world of finance and launch of Chord Chapter to support off-chain assets as collateral.
Conclusion
It must be noted that Duet Protocol isn't the only project that supports the trading of real-world assets. There are numerous projects such as Mirror and Synthetix. In fact, Binance recently introduced the ability to invest in Tesla stocks. What differentiates Duet Protocol is its support for over-collateralization and the fact that it'll support multiple chains. It also aims to be a one-stop solution for all your trading needs.