While talking about cryptocurrency trading, two terms come up regularly, Centralized exchange (CEX) and Decentralized exchange (DEX). What is the difference then? As the name suggests, CEX is under the control of a third party that runs the exchange. On the other hand, DEX isn't under the control of any single entity.
Decentralized exchanges have a couple of advantages over Centralized exchanges:
Privacy – Most of the DEX's don't require users to share personal information. Moreover, transactions on these exchanges never share data with the third party ensuring privacy.
Security – Since the data is never stored in a single place, the risk of losses decreases substantially. Also, the 'decentralized' nature has its own inherent security systems far better than the Centralized exchanges.
Decentralized Servers – As explained above, data stored on DEX can be across various servers around the world due to the lack of a centralized server. This makes it very difficult for hackers to attack and steal your data.
However, a major disadvantage with DEX is futures trading. Futures trading is significantly bigger than spot trading in terms of the trading volume. Most of the CEX is crowded with futures trading whereas, in DEX, it couldn't even cover 10%. Why is it so?
Currently, DEX offerings don't provide an attractive futures product to compete with the CEX offerings. For example, Centralized exchanges can offer 100x leverage on Bitcoin futures trading. DEX, however, provide only 10x leverage.
YFX Descartes is the first Decentralized exchange that offers 100x trading leverage. It works on Ethereum's layer 2 solution providing pragmatic perpetual trading on DEX. Let's talk about it in detail.
Overview
YFX is a transparent decentralized trading platform for perpetual contracts. Users can trade with any token on Ethereum, Tron or BSC (including ETH, TRX, USDT, USDC and various TRC20 and ERC20 tokens) as margin. All the funds are hosted on the platform by smart contracts. All the smart contract codes are open sources and have been audited by professional institutions.
What differentiates YFX from other decentralized offerings? YFX adopts a protocol named QIC-AMM.
QIC-AMM stands for Quoted price index and constant integral based automated market maker. It is a dynamic depth financial derivatives trading protocol based on quoted price index and constant integral. The protocol is quoted through the centralized price index. Users directly trade with the AMM based on the quoted price. The slippage is low and a functional relationship is maintained between trading depth and available balance of the LP pool.
Features
YFX is the latest decentralized cross-chain trading system supporting multiple blockchains including Ethereum, TRON, Binance Smart Chain, Houbi Eco Chain, OKEX and Polkadot. It also has a number of striking features:
Fair Price Quotation – YFX adopts a centralized index price quotation. This represents the market price of the underlying asset and the fairness and effectiveness of the market. It includes two parts: data availability and self-adjusted weight.
QIC-AIMM – As explained above, using QIC-AMM, market makers can use the dynamic depth of constant points to automatically accept effective orders from market traders to ensure the timeliness and fairness of transactions.
Forced Liquidation – Traders can use up to 100x trading leverage on YFX which means that the market maker could suffer 100x trading leverage loss. To ensure that doesn't happen, YFX uses the index price for determining whether the trader's position has been liquidated or not. Once liquidation occurs, the trading smart contract will settle with the market maker at the liquidation price ensuring the safety of the entire system.
Trading Fee System – YFX's trading fee adopts the method of calculating fee while opening a position and settling the fee while closing a position. This fee is calculated using the trader's opening value. The preset trading fee is 0.1%.
Investors and Backers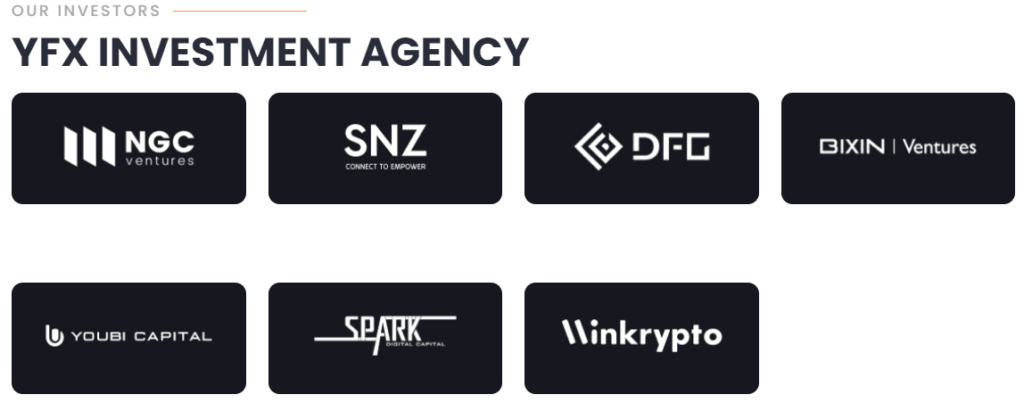 NGC Ventures – An institutional investment firm focusing on projects related to cryptocurrencies.
SNZ Capital – Venture firm empowering state-of-the-art blockchain projects.
DFG – Alternative credit investment firm based in New York.
Bixin Ventures – An investment firm discovering the most promising projects in the blockchain revolution.
Youbi Capital – A private equity fund registered in the Cayman Islands.
Spark Digital – Full-service provider of technology consulting, software design and development services.
Winkrypto – A crypto integrated marketing expert focusing on decrypting the integrated marketing communication of the crypto world.
YFX had completed a number of multi-million dollar round funds from major players in the crypto industry. Some of them are mentioned below:
OKEx Blockdream Ventures – An investment firm exploring high-quality blockchain products.
PrimeBlock Ventures – An investment fund focused on blockchain technology, harnessing growth through investment, acceleration, and development.
Gate.io Labs – A start-up incubator supporting early-stage blockchain projects.
LD Capital – An investment firm in China focusing on blockchain investment, securities, equity investment, and trading.
PetRock Capital – A private investment firm focused exclusively on blockchain-enabled projects.
True Edge Capital – Financial advisor and wealth manager.
R8 Capital – A crypto asset fund focusing on DeFi and Web 3.0.
ArkStream Capital – A token fund dedicated to growing Web3.0 Unicorns.
Jackdaw Capital – A quantitative investment manager focusing on equity market-neutral strategies towards equities globally.
YFX Token
YFX's native token will allow users to share in the DEXs success and enable voting rights for further development and addition of features in the exchange. YFX token will give the holder voting power to decided key parameters on the platform.
It also enables future development work from the team outside core development team so that YFX could catch up with the trend to evolve by itself.
The platform had its IDO on Ethereum and Heco Chain between May 6-7. After that, the YFX token was deployed to Balancer's liquidity Bootstrapping pool on May 7. Investors were able to buy YFX after opening LBP which was open to all investors.
Yesterday, The platform launched its DEX where users can freely trade now.
Tokenomics and Vesting
The total supply of tokens is 100 million. The proportion of community users will be 50%. Distribution will be done through airdrops, mining, risk compensation, security rewards, and community rewards.
The estimated distribution cycle is 3 years where 50% will be distributed in the first year, 25% in the second year and 25% in the third year.
15% of the total supply will be allocated for the strategic investors and out of that, 30% will be unlocked at first and the rest will be unlocked linearly in one year.
25% will be allocated to the founding team + early equity investors. Founding team can access 20% of that instantly and rest will be unlocked linearly in two years.
10% will be allocated for the foundation reserve that'll be used to support the construction and improvement of the ecosystem, the related costs of circulation of the head exchange and construction of related partners.
YFX has allocated 250,000 tokens for the Balancer's Liquidity Bootstrapping Pool. The platform had also allocated 250,000 tokens for the IDO (125,000 on Bounce and WeStarter). The price of the token was $0.8 for the IDO. In the case of LBP, Pricing was dynamic (high-to-low).
For more details regarding LBP: YFX Token Phase 2 Sale
Roadmap
As of now, traders can utilize Ethereum, BSC, TRON or HECO blockchain for trading. Polkadot and OKEx chains will be added soon optimizing the trading experience even further. Other than that, the platform is opting for exercising more on its native token for more governance functions to token holders.
Final Thoughts
YFX Decentralized exchange is the world's first decentralized cross-chain perpetual contract trading platform. By combining all blockchains and xDAI on a single platform, it can keep its fees low. With its breakthrough features like the QIC-AMM market maker pool trading method offering 100x leverage on futures trading, this DEX is plugging the pain point current DEXs have today and for that, it's safe to assume that YFX will have a stellar adoption.