To say NFTs are popular is a big understatement. Quite possibly the fastest-growing segment, even faster than crypto, NFTs are in rage right now. With such a staggering growth and reception, the NFT industry is bolstering up with new marketplace launches and incorporations with various other fields, including metaverses. Talking about marketplaces, we all know that an NFT marketplace generally caters to a single blockchain.
For example, OpenSea is based on Ethereum blockchain, NBA Top Shot is based on Flow Blockchain and Thetha uses its own implementation. However, this creates challenges. As to purchase/trade/sell an NFT, users require that specific token in their wallets. At times, it is not a feasible option and sometimes can deter first-time users who don't want such a complicated affair. In fact, there is a need for a cross-chain compatible NFT marketplace that can provide an easier way through this. Here's where Ghostmarket comes in.
Overview
Ghostmarket is probably the world's first cross-chain NFT marketplace where users can purchase/sell NFTs from various blockchains. Ghostmarket supports Phantasma Chain, NEO, Binance Smart Chain, Polygon, and Avalanche. They're planning to expand this to Solana and Ethereum Blockchain in the future.
The NFT marketplace features a Whitelabel solution. What this does is, allow creators to deploy their marketplace without much fuss. Besides this, the team has released all the APIs (SDK in the works) so that developers/tools/wallets can connect with the platform.
Users can explore and discover new NFT with the NFT explorer. NFT explorer offers traditional features as expected in any e-commerce platform. Users can shop NFTs just like they shop at e-commerce websites which facilitates platform usage and growth.
The platform supports full minting capabilities on all NFT standards, such as ERC1155/ERC721.
Team, Advisors and Backers
A group of the 8-people head the Ghostmarket project:
Vincent Geneste: Founder

Network Architect – Smart Contracts and Front-End.
Previously worked as a Network Consultant at Victrix.

Mathias Enzensberger: Co-founder

Senior Software Developer – Smart Contracts and Back-End.
Previously worked as a Senior Software Developer at KNAPP AG.

Alex Paukonen: Co-founder

Senior Software Developer – Back-End, APIs and SDK.

Pau Vivancos: Co-founder

Senior Software Developer – Wallets, API & Front-End.

Pascal Kelbing: Developer
Ryan Jauregui: Developer
Michelle Peterson Clark: Head of Marketing.
James Suchorski: Community Manager.
To assist them in this project, Ghostmarket also has two advisors:
Julien Bouteloup: Advisor

Senior Software Engineer – Founder & CEO Stake Capital

Jonathan Quali: Advisor

Business Manager – Massa.net & Aleph.im
Backers include Dragon Roark, NEO, MEXC Global, Coz, ZBS Capital, Scorpio VC and aza Groups.
$GM: Governance Token of Ghostmarket
Ghostmarket has a governance token named $GM that powers the platforms and all the blockchains in the project. Moreover, the team plans to use it as a weekly rewarding option for all collectors and artist on the platform. In fact, all of this is based on a particular artist's activity.
Besides this, Ghostmarket will extend its use-cases with the governance token via including voting rights, access to exclusive drops and reduction of trading fees.
Tokenomics
The maximum supply of $GM token is 100 million. The token distribution chart for $GM token is given below: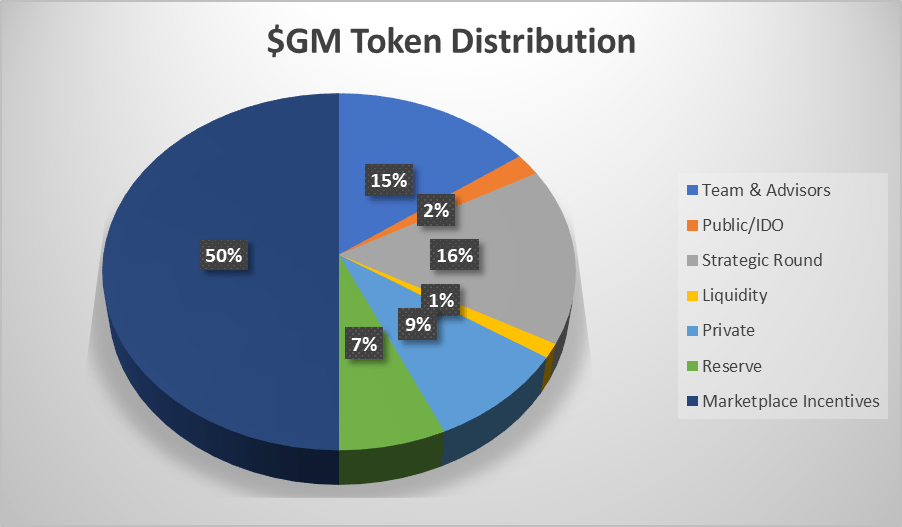 The vesting Schedule for $GM token is mentioned below:
| | |
| --- | --- |
| Allocation | Vesting Schedule |
| Team and Advisors | 1 year cliff/2 year release |
| Public/IDO | Unlock on public sale. |
| Strategic Round | 5% on public sale, then release over 12 months. |
| Liquidity | Unlock on public sale. |
| Private | 5% on public sale, then release over 9 months. |
| Reserve | Monthly release over 1 year. |
| Marketplace Incentives | Monthly release over 7 years. |
Roadmap
The team behind Ghostmarket founded this project in the fourth quarter of 2020. Moreover, they've incorporated Phantasma Minting & Trading and NEO2 Partial Integration post, with added Auction Capabilities.
The team has deployed GhostMarket V2 while adding support for BSC Minting and Polygon Minting.
Finally, in the first quarter of 2022, the team is preparing to release all the SDK associated with the project. Besides this, they'll add another blockchain within their NFT marketplace along with the option of NFT swaps between blockchains.
Also, they'll unveil Ghostmarket's mobile app in the first quarter of this year.
Final Thoughts
Ghostmarket has cleverly positioned its stand at a shortcoming in the industry, which makes it a fruitful option for the audience. With a cross-chain NFT marketplace with various popular blockchains, Ghostmarket can cater to audiences from all the blockchains combined, giving them a much bigger market to taper with.
Moreover, while taking care of that, the team has taken care of the overall quality of the project. Intending to create an environment similar to an e-commerce website, they've effectively lowered the learning gap, which will attract more casual users.
Finally, the project seems to be having a solid roadmap and if everything falls in place, it might propel other industry players to incorporate the concept of cross-chain NFT marketplaces.
Related Stories: