In the world of stock trading, index investing is not an unknown terminology. But what is it exactly? And why it holds so much importance in the world of trading?
Index investing is a passive investment technique that replicates returns similar to a broad market index. Here, passive investment means maximizing returns by minimizing buying and selling. Investors use this strategy to replicate the performance of a specific index by purchasing its components. In mutual funds, investors purchase an index mutual fund or exchange-traded fund that mimics the underlying index.
What is the advantage of index investing, then? Empirical research has shown that index investing usually outperforms active management over a long time frame. By picking an index fund, you can eliminate many of the biases and uncertainties arising from choosing stocks.
Index investing has a major part in traditional asset management, with the top index providers accumulating trillion-dollar AUMs (Assets under management). A recent estimation shows that index funds hold nearly 50% of the entire U.S. stock market.
However, index investing is still in nascent stages in the token economy. As it expands and becomes more diverse, participants will want products that'll provide diversified exposure to these different sectors. With sector-specific indices, benchmarking performance will become the Schelling point in the token economy.
Phuture protocol aims to just that! It wants to incorporate index investing in the token economy.
Overview
Phuture is a decentralized protocol designed for creating and investing token-based passive investment strategies in a Web3 environment. It introduces an open design philosophy to create passive investment strategies and provide the tools for creating new indices or invest in existing ones created by the community.
While designing the platform, priority was on creating user-friendliness, so it has an intuitive UI and tools that bring power and depth to the experience. Through the protocol's index creator tool, users can easily create indices that can support various index options like automated sector tracking and dynamic weighting methodologies.
Features
Phuture protocol has a couple of features in its arsenal for providing users an easy, smooth and powerful way of creating token indices:
Smart Rebalancing – The protocol introduces rebalancing bands that prevent the system from operating when an asset's weight is outside of an acceptable range. It stops excessive rebalancing triggered by small movements in the underlying price. It also provides safety to the system when prices move by a great magnitude.
Flexible Index Design – Phuture Index creator allows users to create indices with a diverse range of choices ranging from weighting methodologies to tracker functionality. It also provides:

Sector Tracking – The index creator tool provides a list of curated sectors to choose assets from and is based on the desired weighting methodology.
Dynamic Data for Index Weights – Indices can leverage dynamic datasets to assign individual asset weights within an index.

Asset Optimization – Phuture facilitates off-platform yield optimization that enables productivity of idle assets and improved index returns. As assets increase while index minting, keepers move the excess assets off-platform, earning a yield. Conversely, as indices are redeemed and reserves reduced, keepers pull assets from off-platform locations to increase the reserves on the protocol. This assures the solvency of the system and restores the optimal reserve ratio.
Early Backers
Phuture protocol is backed by some of the heavyweights in the digital token industry with years of experience:
Ascensive Assets – A private investment firm solely focused on the digital asset industry.
NGC Ventures – One of the largest and most active institutional investors of cryptocurrencies.
SevenX – An independent thinker and tech-driven cryptocurrency investment firm that provides insights and operational expertise.
Origin Capital – A long-term focused fund with an emphasis on early-stage equity and presales.
Waterdrip Capital – An international investment institution focusing on the blockchain industry.
Moonrock Capital – A Blockchain Advisory and Investment Partnership based in London and Hamburg.
D64 – A venture capital firm that focuses on early-stage investments.
Genblock Capital – An investment firm exclusively in blockchain and cryptocurrency, with a focus on decentralized finance.
Vendetta Capital – A venture capital firm offering investing and portfolio management services in the marketing and blockchain technology sectors.
PHTR Token
Phuture token is the medium through which the protocol can enforce governance, reward users, incentivize activity and provide a medium to raise capital. Its functions are:
Governance – Staked PHTR holders can exercise their right to vote on, or propose new ideas for improving the protocol.
Staking – Users who stake PHTR receive Enhanced PHTR (ePHTR), a yield generating variant of PHTR.
Keeper and Liquidity Rewards – PHTR is earned by keepers performing critical platform functions, and is used to promote the liquidity of Phuture indices.
Tokenomics
The PHTR token has an initial maximum supply of 100 million. The token contract can turn on perpetual inflation with a maximum rate of 3% per annum. It will be turned off by default at launch.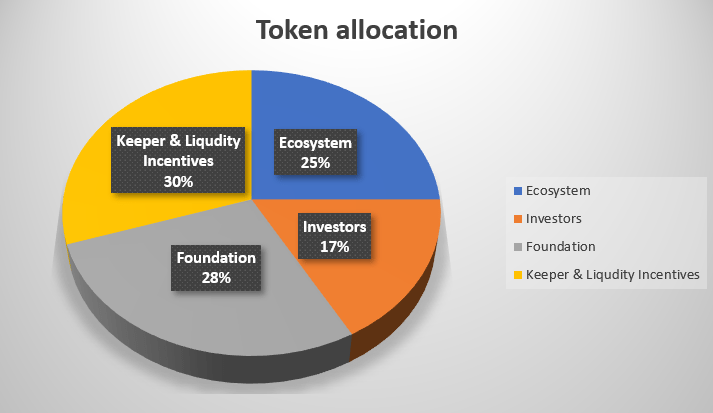 Token allocation is mentioned as follows:
Ecosystem: 25 million
Investors: 16.875 million

Seed Round: 15.875 million
Launchpad: 1 million

Foundation: 28.125 million

Team: 20 million
Advisors: 3.125 million
Future Employees: 5 million

Keeper and Liquidity Incentives: 30 million
Roadmap
Currently, Phuture protocol's roadmap isn't out yet and a response from the company stated that it's a work-in-progress. They stated that it will be released soon.
Final Thoughts
As explained above, index investing plays a huge part in stock trading and soon will have a major role in token-based trading. Phuture Protocol aims to break through this untapped segment in the token industry by offering a feature-packed index creation platform that'll cater to many users in the token industry. Also, with the increase in token-indices trading in the future, the industry is expected to be much more refined and categorized according to the users/traders/investors' need.