Although the crypto market and largely the crypto industry is on a different level right now, things weren't exactly the same back in the early years. While Bitcoin was released back in 2009, things weren't exactly exciting for the crypto industry. This is mainly due to the fact that the technology back then was so new that it took a while for people to realize that crypto can have other use-cases. Initially, people thought of cryptos as a replacement for traditional payment mechanisms. However, the community realized that crypto could solve much more than replacing the traditional payment system after a while.
The Crypto industry got its first 'break' in 2015 when the industry started to envelope itself and gain some stability and have some standardization. It was back then when many major crypto companies had started their operations. Out of all those companies, one offering, Dopamine, initially aimed to provide names, logos, and prices of different cryptos in the market. As of now, that offering is aiming to become a crypto 'super app'.
Overview of Dopamine
Dopamine started its operations back in 2015. Initially, its main functionality was to provide the names, logos and prices of the different cryptos in the market. Back then, the market was a lot smaller & less demanding.
However, things started to change in 2017 when the first bull run in the crypto market happened in June. Following that, the user base grew exponentially, which also propelled the development phase.
Dopamine stands strong with more than a million downloads on Play Store and App Store.
Features of Dopamine
As of now, Dopamine enables quick and easy access to cryptocurrency prices, market cap, exchange markets, coin details, charts, crypto news, ICO live – upcoming and finished, alerts on over 1000 cryptocurrencies including Bitcoin, Bitcoin Cash, Ethereum, Iota, Cardano, Stellar, Ripple, Litecoin & many more.
Also, Dopamine currently supports Ethereum, Binance, Huobi, Fusion & Polygon. Moving on in the future, Dopamine is planning to support blockchains like Solana, Cardano and many more.
Users can access price information, buy and trade crypto assets, manage their portfolio, manage their wallets, watch educational and other crypto-related videos on the Dopamine app.
Team and Investors of Dopamine
The team behind the Dopamine app consist of 9 members. Karim Chaib is the founder and CEO of the Dopamine project. He has worked with corporates such as Microsoft, IBM & Credit Suisse. Also, he has over 3 years of experience in blockchain.
Kyriakos Alexandrou is the co-founder and CTO of the Dopamine project. He has over 7 years of tech experience and has been in the blockchain space since 2013. This is his first crypto-based project.
Cyril Chadé is the COO of the Dopamine project and also works as a COO at Cortex. With a background in politics and marketing, the individual is the founder of Polydea, a communications agency specializing in political strategy, digital marketing and graphic design.
The list of investors include:
DAO maker
MXC
AU21
Bitcoin.com
ExNEtwork
Master Venture
Moonwhale capital
Shima capital
Any
Zipmex
Panda Capital
baselayer
Node Kapital
Native Token of Dopamine: DOPE
The DOPE token is the utility token of the Dopamine ecosystem. Users can trade DOPE which will act as a utility within the Dopamine ecosystem. With the token, users can access specific functionalities and features in the ecosystem. The token is cross-chain to function on several blockchains and transfer from one chain to the other.
The utilities of the token include:
Advertising
Reduced Transaction Fee
Access to Dopamine Launchpad
Access to Premium Trading Signals and Analysis
Staking and Farming rewards
Airdrops & Rewards.
Tokenomics
The total supply of DOPE tokens is 500,000,000, and the initial circulating supply is 29,750,000 DOPE. The Token Distribution chart is given below: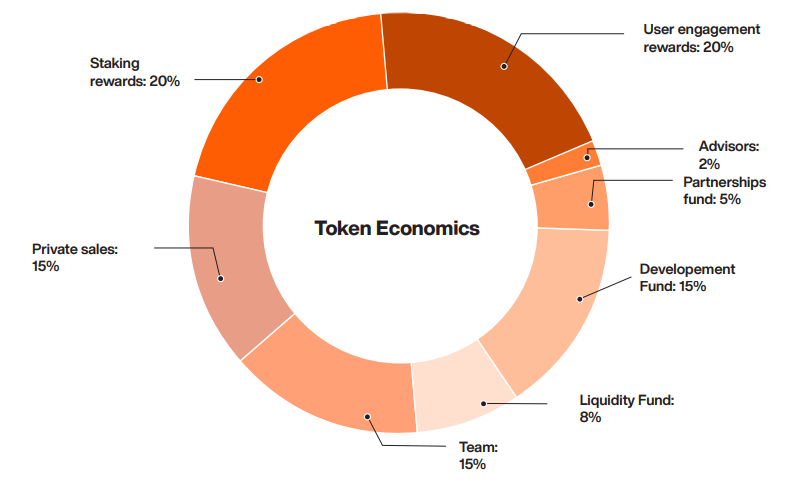 | | | | |
| --- | --- | --- | --- |
| Division | Percentage | Vesting | |
| Private Sale | 15% | 10% unlocked on TGE then 10% every month | |
| Staking Rewards | 20% | 10% unlocked on TGE then evenly unlocked over 36 months | |
| Users Engagement rewards | 20% | 4% unlocked on TGE then evenly unlocked over 48 months | |
| Partnerships Fund | 5% | 5% unlocked on TGE then evenly unlocked over 38 months | |
| Development Fund | 15% | 4% unlocked on TGE then evenly unlocked over 48 months | |
| Team | 15% | 12 months fully-locked then evenly unlocked over 24 months | |
| Advisors | 2% | 6 months fully-locked then evenly unlocked over 25 months | |
| Liquidity Fund | 8% | 10% unlocked on TGE then evenly unlocked over 36 months | |
Roadmap
As of now, the team is focusing on finalizing the launchpads and CEXs. They are discussing the same with their investors and will finalize the same once the private funding round is completed.
According to them, their unofficial target to launch is in mid-December 2021.
In the future, they are expecting to add features such as AI-based trading, Wallet Insurance and obtain a Neo-bank License for a smoother operation experience to end-users.
Final Thoughts
With all the features and characteristics mentioned above, Dopamine seems to have a strong footing as a crypto 'super app'. Not only has the team developed this project for a long time (+2 years) but they've also positioned itself as an offering incorporating most of the major available offerings. Other than that, the investor group looks strong which cements the potential of the project.
Overall, Dopamine is a strong project with an extensive underlining and an ambitious aim to achieve what it can possibly achieve in the future.