Binance exchange is one of the biggest cryptocurrencies in the world where one can buy/sell/trade cryptocurrencies. But how can you do that and what all requirements you need to fulfill? Let's discuss that.
#1: Register on the exchange.
All the cryptocurrencies bought or traded will be present in the account created by the exchange. You can create your account by registering on their website through email or mobile number.
After creating your account, A wallet will be provided for your account for storing your cryptocurrencies. But before that, you'll have to go through a process called Identity Verification. Here, you'll be asked to upload identity documents to verify yourself as well as a facial scan through your computer's webcam. These verifications are usually done in an hour and after verification, you'll be able to buy cryptos.
#2: Funding your account.
To fund your account, you'll have to transfer funds from a monetary sources like an exchange or other systems. For this example, I'll use Coinbase to fund the account and the cryptocurrency used will be ETH.
To send ETH to your Binance account, select the Send/Receive and enter the amount of ETH you want to transfer. Under the recipient section, email address is also allowed alongside wallet address although it is preferable to enter the latter.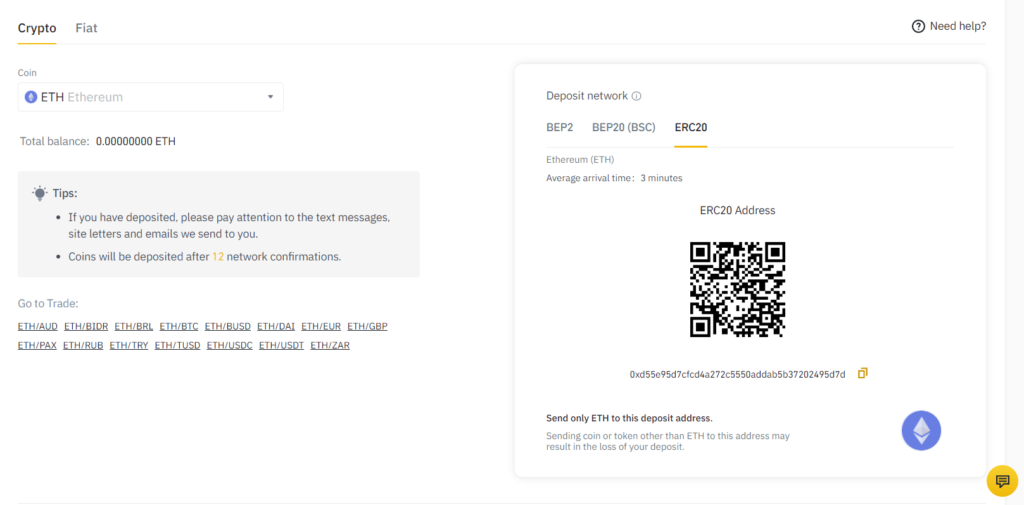 To find your ETH wallet address, hover over the wallet section on Binance and select 'Fiat and Spot'. Under that section, select Deposit and select the coin you are about to transfer into the account (ETH in this case). Here, you'll get a QR code below which is a string of characters. This is your wallet address and pay special caution to it since even a single incorrect character could lead to loss of coins while transfer.
#3: Trading on Binance
In Binance, there are two trading settings: Classic and Advanced. For beginner use, you should start with Classic.
This trade setting has a easy to understand layout. Only the essential information is displayed for a less distracting experience. Although this interface is a bit overwhelming for beginners due to a myriad of data and charts all around, with time, things will be more understandable.
Now a trading pair must be selected. A trading pair is a group of cryptos or altcoins that can be exchanged with one another with a specific exchange rate. In the case of ETH, Binance offers 140+ trading pairs.
After selecting the pair, you'll have to place an order. Binance offers three types of orders:
Limit orders – users set the maximum price they are willing to pay for coins or the minimum price they are willing to sell them for. Traders then have to wait until a buyer or seller accepts their price.
Market orders – users trade coins at their current market price. This kind of trade is the fastest and most simple.
Stop-limit orders – traders buy or sell a coin once it has reached a certain price. This kind of order is often used by pro-traders.
After selecting the type of order and entering the amount, the trade initiates and the exchange coins are deposited in your wallet on successful transaction.
There's one more important aspect which needs to be looked at: Trading Fees.
Trading Fees
Trading fees are basically transaction fees taken by the exchange as a commission and to ensure proper functioning of the exchange. Binance trading fees are some of the lowest on the market. There's no fee for deposits since it is cryptocurrency-only exchange. It avoids the high fees with fiat trading that other exchanges have to charge.
Binance charges different withdrawal fees for different cryptocurrencies but they are all quite low. For example, for ETH, you'll be charged 0.01 ETH. If you withdraw Ripple you'll be charged 0.25 XRP.
Binance trading fees are capped at 0.1% of each purchase or sale users make. This fee is reduced by 50% if traders use Binance Coin (BNB), its own crypto coin, to pay them.
This is a major reason why Binance is one of the most popular crypto exchanges. Bittrex and Bitstamp are well-known for having low fees and they both charge 0.25% for each trade, 5 times more than Binance.
In short, Binance is an exchange designed to be appealing to multiple users over the spectrum. The exchange is simple enough for newbies to use, and offers enough coins and features to keep expert traders happy, as well.