Bitcoin, during its bull run, hit the price of $50,110 per coin for the first time on Monday. It is mainly due to the recent public support of major companies such as Tesla, Apple, Mastercard, PayPal, and BNY Mellon among others that mentioned that they'll be adopting or implementing Bitcoin or other virtual currencies. BTC's price was as high as $50,600 on the Luxembourg-based Bitstamp exchange in the morning but it fell back to $50,110 towards the end of the day. Now the question is whether the Bitcoin's epic price rise will continue or not.
What is a bull run?
A bull run, also known as a bull market, is when the stock prices are rising daily. This could either be for low amounts or high amounts as long as the stock price reaches its peak price one way or another. In the cryptocurrency market, bull runs can last long as it's a much longer process of increased prices and hope in the market.
Analysts state that Bitcoin's bull runs happen every 4 years, and the last one occurred in late 2017.
Bitcoin's bull run
In 2017, when bitcoin experienced its first hike, it was, on average being traded for $13,000, even up to $20,000. But the prices fell soon enough the same year. Fast-forward to 2020 and lots of companies are supporting and implementing Bitcoin which affects the prices. Here's a look at Bitcoin's price since 2020:
March 2020- $6,400
May 2020- $9,600
August 2020- $11,600
November 2020- $18,100
December 2020- $28,700
January 2021- $34,600
1st February, 2021- $33,000
4th February, 2021- $37,300
7th February, 2021- $40,300
10th February, 2021- $46,600
15th February, 2021- $50,110
16th February, 2021- $49,200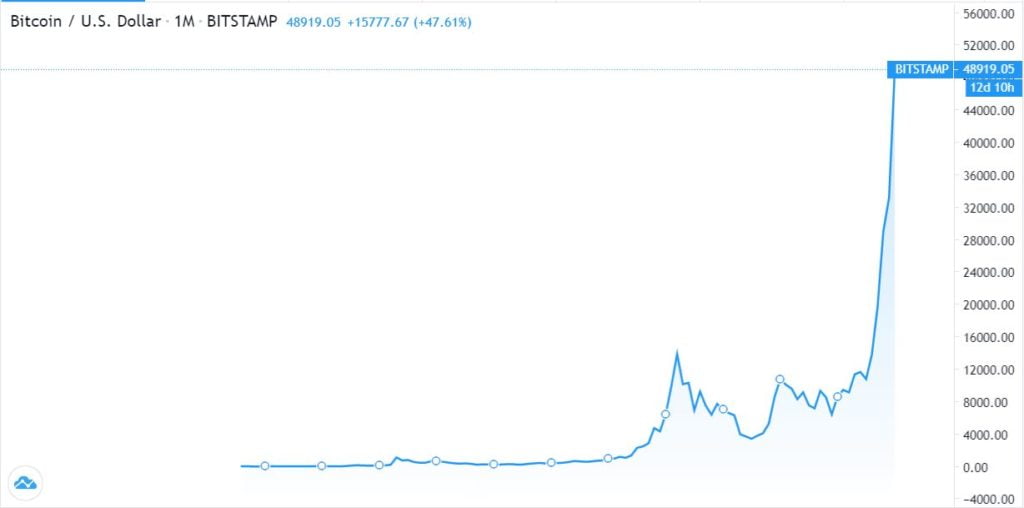 This has been the growth of Bitcoin from the third quarter of 2020 to today. It hit $50,000 after Apple announced that cryptocurrencies can be used as forms of payment on the Apple Pay app.
Bitcoin price predictions
People who have been following Bitcoin since 2017 or before are aware that the price in 2017 grew due to speculation. But this bull run is different. That's because, BTC is now being seen as a more stable and secure asset in comparison to three years ago. Hence, its demand by investors and top companies alike is pushing the prices.
Bitcoin also reported inflows of $365 million in the latest market report over the past week due to all the statements and announcements made by the huge corporations.
The most realistic prediction made was stated by Erik Voorhees, the CEO of ShapeShift. He said that the price will be $100,000 to $300,000 in 6 to 12 months. He also said that when this Bitcoin bubble will pop, the price will come down to $100,000 but will never be below $20,000. Another price prediction says $70,000 – $90,000 by December 2021.
I guess, we'll just have to hold tight to our Bitcoins and wait and see what's next on its steep road.