After the terrific rise of BTC reaching $50k, curious ones are wondering, "Is it gonna go higher or crash?" Ask optimistic investors, they'll say it'll grow. Meanwhile, skeptics still argue that Bitcoin is the biggest market bubble investors have ever seen. But whether Bitcoin grows tremendously, or crashes spectacularly, only time will tell. For now, we can argue with the data we have, so let's do that.
Bitcoin has seen days, unlike traditional stocks due to its high volatility
Satoshi Nakamoto's creation didn't have a great head start and was virtually worthless at launch. As far as you can gather information about it, when the Bitcoin core client mode was released, 1 BTC wasn't even worth 1 penny. After some hiccups and a period of several years, its first upsurge started at the end of 2017 with a high of $14,000 and settling at $9,000 after a month.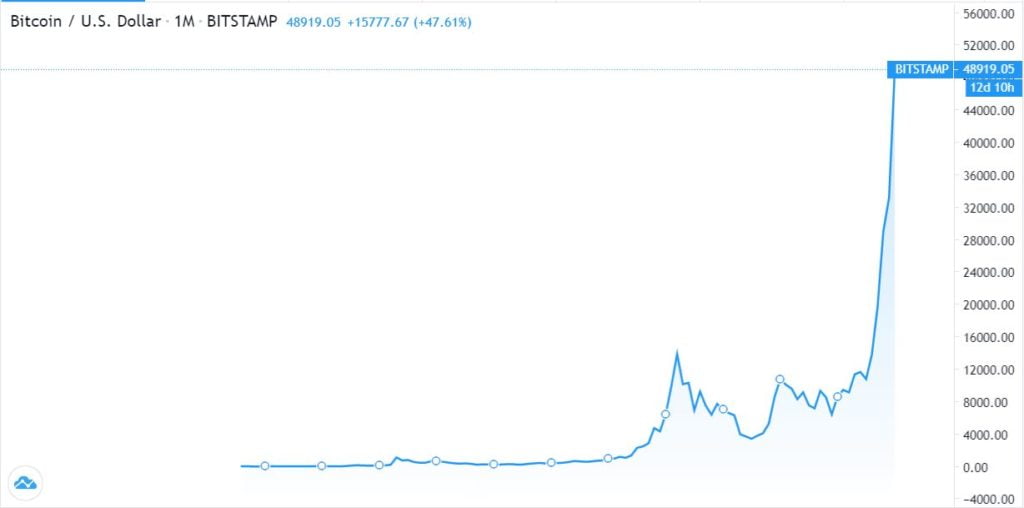 After a series of ups and downs, and during the COVID-19 pandemic, Bitcoin crashed to about $4,000. However, stimulus packages by various nations to combat the pandemic led to BTC grabbing the spotlight in the financial industry, thereby breaking its former all-time high of $20,000.
Bitcoin finally skyrocketed in 2021 reaching as high as $50k. Part of it could be the market sentiment, but it was also because of a slew of announcements of investment by prominent people in the financial industry. Also, various nations have put forward their own plans to create a 'digital currency' similar to BTC, which is having a ripple effect for the largest virtual currency by market cap.
What do analysts have to say about Bitcoin now?
With BTC almost at the $50k mark, some people think that the bull run is not over, and skeptics believe it to be completely worthless and the biggest bubble the world has seen in ages.
Founder of Galaxy Digital, Mike Novogratz said in an interview with Bloomberg after Tesla's revelation of the purchase of $1.5 Billion BTC,
"You got the biggest, the wealthiest man in the world and one of the biggest stories doing it. You've got to think other CFOs and CEOs are saying, what should we be doing?"
He expects a lot of companies following Tesla's footsteps and is sure of BTC reaching $100k this year.
Simon Peters, the crypto analyst from the investment platform eToro, asserted that BTC could easily tap $70k by the year's end. He wrote,
"The crypto asset world is bursting into the realms of traditional finance at a staggering pace. Major payments provider Mastercard announced it will support digital assets directly via its own network, signaling yet another major milestone for the industry."
He also added,
"Bitcoin and its peers are, quite simply, going to be part of the mainstream financial universe sooner rather than later. I expect demand to surge and see bitcoin prices hitting at least $70,000 by the end of this year."
Although a lot of them in the crowd are optimistic about Bitcoins, it also has its fair share of skepticism.
Schiff tweeted,
However, the interesting thing is that, even as a detractor of Bitcoin and cryptocurrencies, Peter Schiff recently tweeted that Bitcoin could go as high as $100k this year, before going down to zero, ultimately.
Although Bitcoin has its critics, the number of people optimistic about it is much higher. Scott Minerd, Chief Investment Officer of Guggenheim Partners, detailed,
"If you consider the supply of bitcoin relative to the supply of gold in the world and what the total value of gold is, if bitcoin were to go to those kinds of numbers, we'd be talking about $400,000 to $600,000 per bitcoin. Now, I'm not saying we'll ultimately get there, but that's an indication of what might be a fair value."
What's the verdict on Bitcoin's price then?
As mentioned in the beginning, it's difficult to make any predictions. The price of any asset isn't just a function of its underlying value, but the market sentiment around it as well. However, going by that logic, and seeing the faith many public and private companies are placing on Bitcoin as an asset, it's highly unlikely that it'll go down to zero. Now, whether it goes to $100k or higher is something that we'll have to wait and watch.