It wouldn't be wrong to say that cryptocurrencies and blockchain have revolutionized the world of payments. Of course, if you take a look at just the price action, you may not see the impact that's happening behind the scenes. Interestingly, while banks are taking a careful look at virtual currencies and figuring out whether it's something they need to focus on, infrastructure providers like Mastercard and Visa have gone ahead and started supporting them.
Considering that Bitcoin was worth more than Mastercard and Visa combined in March (when its price hit $60,000), it does make sense that the companies are preparing themselves for the future. Wondering how? Well, that's what we'd be focusing on in this piece today.
What is Mastercard doing?
Earlier this year, Mastercard announced that it would start supporting cryptocurrencies directly on its network. Of course, the company has mentioned that it'll be careful about which digital currencies will be supported, but there's no denying that it's a huge step towards accepting crypto. The biggest benefit of such a step, as you could guess, is that the merchants will be able to accept payments from users in crypto directly. In addition, there could be things like loyalty offers to entice users.
In a statement, Mastercard mentioned that its aim is to help settle payments, whether they're in traditional currency or crypto:
"We are here to enable customers, merchants, and businesses to move digital value — traditional or crypto — however they want. It should be your choice, it's your money."
Worth noting that Mastercard is mainly focusing on stablecoins or digital currencies that are regulated and reliable. These are the four principles that Mastercard will use to decide whether or not to accept a certain cryptocurrency:
Consumer protection – currencies that support privacy and security for consumers' information.
Compliance – currencies should follow compliance protocols such as Know Your Customer.
Adhere to local laws and regulations – these currencies should follow regulations in the regions they're being used.
Users' usage and acceptance – Mastercard will also look at those digital assets that people will want to use.
Read: 7 best crypto debit cards that let you spend your crypto and earn some rewards
Mastercard has already partnered with exchanges and services like BitPay and Wirex to offer cards that users can use to make transactions using cryptocurrencies. The payments company has mentioned that it'll be introducing more such partnerships in the future. But the important thing to note is that these partners still have to convert the cryptocurrencies to traditional ones and then use the Mastercard network to transmit the payment details.
With the change that Mastercard is bringing, these transactions would settle on the network directly and quickly. Add to it the fact that more merchants will be able to accept crypto.
What is Visa doing?
Mastercard's arch-rival Visa is also doing a lot of interesting stuff in the crypto space. It has partnered with Coinbase and Fold to provide a bridge between cryptocurrencies and its network of over 70 million merchants. It supports over 25 crypto wallets like Crypto.com and BlockFi that allow users to spend their virtual currencies using a Visa debit or prepaid card.
Visa is also settling these transactions on its network to ensure that the transactions are faster and easier for merchants and consumers.
Read: Top 10 Stablecoins by Market Cap
In March this year, it partnered with USD Coin — a popular stablecoin pegged to USD and backed by Circle — to settle transactions. What this means is that the transactions would be settled on Visa's network directly. With successful transactions using USDC stablecoin as a pilot, where it used Crypto.com's card to send USDC to Visa's Ethereum address at Anchorage, Visa was able to test the following features:
Support reconciliation stablecoins like USD Coin
Add support for treasury systems like Anchorage for settling transactions of digital assets
Introduce a new Visa settlement report for supporting settlement obligations for crypto wallet and issuers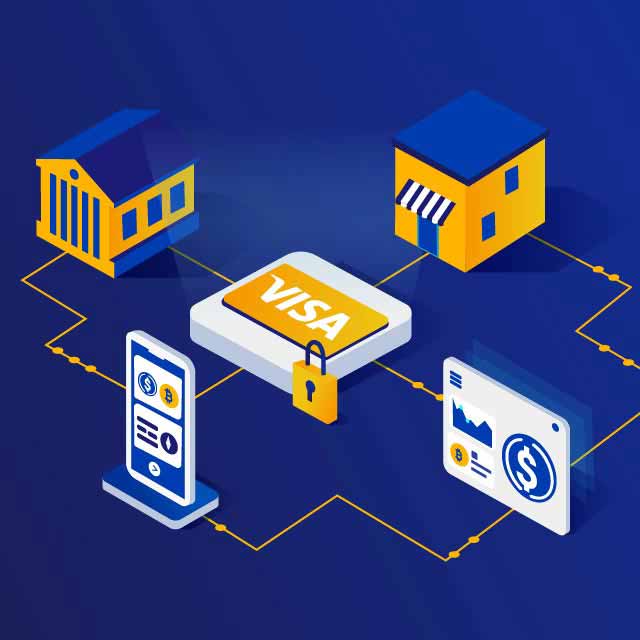 Visa's CEO Al Kelly is highlighting that it aims to make cryptocurrency transactions safe and secure. In an earnings call, he said:
"We believe that we are uniquely positioned to help make cryptocurrencies more safe, useful, and applicable for payments through our global presence, our partnership approach, and our trusted brand."
How Mastercard and Visa are thinking about CBDCs?
Central Bank Digital Currencies (CBDC) is becoming a buzzword of sorts. We have already seen China taking the first step towards them by launching Digital Yuan. Many more countries are working on them, including India, which may launch Digital Rupee. As per Bank for International Settlements, 80% of central banks think about CBDCs, and 40% have started experimenting with them. So, it's but natural for Mastercard and Visa to introduce support for them.
Mastercard has pointed out that it's in active discussions with major central banks across the globe for CBDCs. It even launched a test platform in September 2020 for banks to evaluate the use cases and test roll-out strategies in a simulated environment.
Visa is also collaborating with not just central banks, but World Economic Forum too to discuss the CBDCs.
Mastercard vs Visa: crypto edition
Mastercard and Visa are fierce competitors as both of them partner with banks to offer cards and settle transactions on their networks, respectively. Their plan for cryptocurrencies seem similar, but dig deep, and you'll find that they also have different strategies. Both Mastercard and Visa are partnering with the card providers to help settle transactions on their networks directly. They're also working with central banks for CBDCs, which could potentially be a big thing.
However, Visa is going a step further as it's investing in the companies in this space. Last year, it invested in Anchorage, which is building security infrastructure for the crypto ecosystem. Visa is also launching APIs for the crypto ecosystem. For example, it partnered with Boulevard, a Kansas-based, Black-focused digital bank, to help its clients integrated Bitcoin and other cryptocurrencies.
Both Mastercard and Visa are doing a lot of studies too. Mastercard has filed over 300 patents (85 has been granted) as of November 2020. And Visa is also working on research papers, introducing concepts such as Zether and FlyClient.
Finishing thoughts
The fact that more than half a century old companies like Mastercard and Visa are embracing crypto, it's a piece of positive news for the ecosystem. Moreover, these companies partner with banks worldwide to settle transactions, which means they do believe in the future.
However, we can't ignore the fact that they may not support all cryptocurrencies, hence all the ideals of crypto. Considering they're mainly considering stablecoins, it's evident they are looking for regulated virtual currencies, which sits at odds with the principles of decentralization.