Solana has had a number of outages since its launch and this year is especially not looking good for them. Recently, the network faced another outage for about 5 hours due to a consensus-related bug.
The network posted this on its Twitter account stating about validator operators restarting the beta in a couple of hours.
Co-Founder of Solana Labs, Anatoly Yakovenko explained the situation in his tweet:
"Durable nonce instruction caused part of the network to consider the block is invalid, no consensus could be formed."
What is Durable Transaction Nonce? Basically, it is a mechanism that addresses a typical short lifetime of a transaction block hash. Due to a bug, nodes started generating different outputs which resulted in a consensus failure.
The validation operators restarted the network, disabling the feature. Yakovenko also added that they'll push fixes for the bug "soon".
As this was one of the recent outages that the network faced, the community criticized the team for such issues:
"Get it together Solana. We should be past this already. I'm a big believer but I'm even doubting at this point."
Also, the price of Solana saw a big hit after the network outage. Riding from ~$45 per token, the token dipped to below ~$38, tanking about 14% in a matter of hours.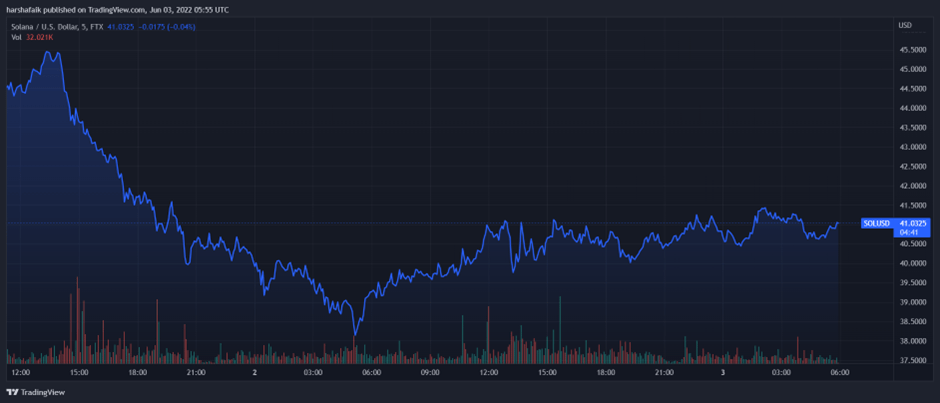 Moreover, Solana once rode over $260 per token last November and reached the list of top 10 cryptos by market capitalization. However, it looks like the crypto could slide out of that list in the near future.
This is not promising for crypto that its team touted as the "Ethereum killer". In fact, since September 2021, the network has gone offline seven times.
Related Stories: