In 2021, the crypto market is getting flooded with meme coins. These meme coins are being turned into cryptocurrencies, and many people are actually buying into them!
In recent times, Meme coins have become more popular than the mainstream cryptocurrencies such as Bitcoin and Ethereum. The top two meme cryptocurrencies, Shiba Inu and Dogecoin, are not among the Top 15 by Market Value. But before seeing why do platforms push Meme coins these days, let's understand what a meme coin is.
What are Meme Coins?
Meme coins are nothing but those crypto coins inspired by social media, jokes, and sarcasm. They share certain attributes with the might Bitcoin but can use various consensus mechanisms and smart contracts. So, in other words, a meme coin is a theme-based coin, often created as a joke and not as a serious token.
According to reports, at present, about 124 meme coins are floating across the crypto space. Tokens like DOGE and SHIB are the most popular in the tweets and in the market as well. Meme coins are everywhere around us and can be made from anything. For example, the Doge meme-inspired meme coin DOGE has now grown to be a serious investment, currently trading over $0.21.
Why do Platforms promote them?
However, theoretically, the value of meme coins grows with the price, especially since there is no business attached to it. In addition, there are several other reasons why meme coins are being promoted and adopted by various marque platforms.
Market Position
Lately, they are acting more than meme coins with their market cap rising to the moon compared to some 'proper coins'. According to Reports, Dogecoin, which originated in 2013 as a joke, ranks No. 9 by a market value of over $35 billion. It is currently trading at around 26 cents. And if we talk about the rival token Shiba Inu, which was started last year in 2020 by an anonymous guy named 'Ryoshi'. Just to poke fun and compare with Dogecoin, now ranks No. 11 with a market value of over $27 Billion.
Surely rising market cap and position among the top cryptocurrencies impact the crypto platforms to adopt these meme currencies.
The Musk Effect
The Elon Musk effect is everywhere, like a couple of years ago. On April 2 2019, Musk tweeted that DOGE was one of his favourite cryptocurrencies. And the meme coin jumped from $0.00241 to $0.003640 by the 5th, a staggering 40% bump in alone 3 days. In the wake of this, the Tesla CEO and avid crypto-fan called himself the 'Dogefather'. Even nowadays, he continues to constantly tweet about his recent investments in Ether, Bitcoin and his favourite Dogecoin, which results in the massive popularity of these meme coins. This is known to be "The Musk Effect".
The Meme Coin Bubble
People who enter the crypto domain in the hopes of seeing these meme coins jump to the moon and give them great profits are gambling on the continuation of the popularity of the coin. As it gains popularity and the price rises, investors and people who buy them at their highest ever price merely depend on their continued popularity. No doubt people have made fortunes when their meme coins have risen. And the crypto platforms take this into consideration and promote those popular and hot meme coins on which people are gambling.
Some Popular Meme Coins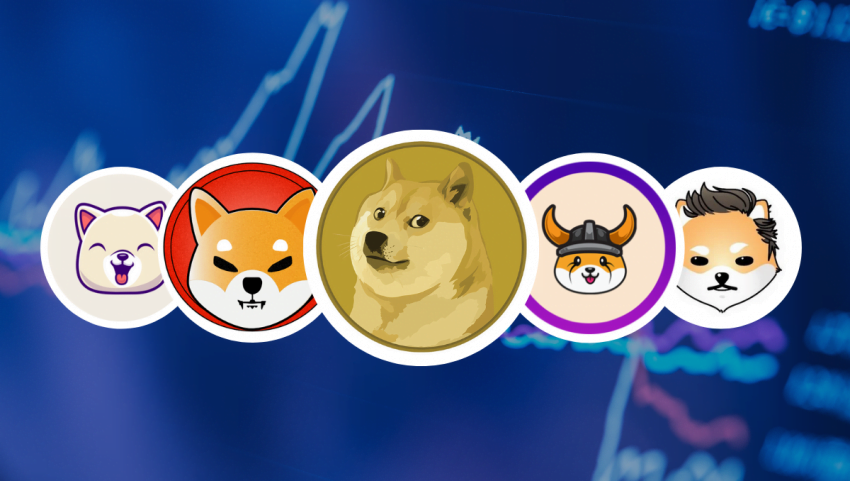 Dogecoin (DOGE)
A project by Jackson Palmer was launched on December 6, 2013. A record million people visited the project website in the first 30 days only. It was based on the Luckycoin cryptocurrency, which was based on the concept of Bitcoin. The reason for the creation of the coin was the primary blare interest around Bitcoin.
People were discussing the new product keenly. So Palmer decided to joke around by creating his crypto token, proving that investing tons of bucks in such an unstable market is really absurd.
Shiba Inu (SHIB)
Shiba Inu was founded not a long ago, in 2020. The founder of SHIB is hiding under the mysterious name 'Ryoshi'. SHIB is based on the Ethereum blockchain. Because Ryoshi believed that, unlike other networks, Ethereum is truly decentralized, secure and quite established in the market. Ethereum allows the true conception of decentralized communities. Later known to be 'Dogecoin killer' was created as "an experiment into decentralized spontaneous community building".
MonaCoin (MONA)
MonaCoin was launched around the year 2014 when people weren't that into the crypto domain. MONA is possibly one of the well-known meme coins in the market. MONA was founded by a person named "Mr Watanabe". MonaCoin is still widely used in Japan. There are many stores and restaurants in Japan that accept payments in MONA.
SafeMoon (SAFEMOON)
Another new meme token was launched recently in 2021 by John Caroni. SafeMoon is a DeFi token based on the Binance Smart Chain. The project runs entirely by the respective community. They focus on the static functions of locked liquidity and rewards. A unique aspect about SafeMoon coins is that SafeMoon has added a feature into its protocol that reduces the selling of its native coins.
Takeaway
Everyone loves a good joke, right? But when it comes to meme coins in 2021, are the investors becoming the punchline?
What may have started as a joke or as crypto puns seems serious nowadays instead of funny. They may be highly profitable for a while, but it is important to remember that they have no real purpose. As almost every meme coin is a "joke" they have an extremely volatile nature. However, meme coins continue to rise in value and popularity, with billionaires like Elon Musk getting on the act.
They seem to carry the potential to have a larger impact than expected. It will be interesting to see how these MEME COINS grow in the coming days, weeks, months and years.
Also, check out: