As of 2021, DeFi projects have a claimed 'total locked value' of $37.67 Billion. This is a clear indication of the tremendous pace DeFi has been seeing. DeFi giants like Compound and Uniswap are unlocking a new dimension of financial features in an open and transparent manner.
However, making a clear stand around the current financial system is no easy feat. And with the advent increase in DeFi platforms, the bottlenecks in the current financial system are glaringly obvious now:
Lack of interoperability
Initial high fees associated with participation on a newly-built blockchain
Difficult to understand interface and ecosystem with the platforms available
Relite Protocol wants to nullify these pain points with a purpose-built, easy-to-use DeFi interface for lending, borrowing and staking all crypto assets under a single protocol.
Overview
Relite is a money market protocol that enables users to lend, borrow and stake crypto assets. The protocol's main feature is that all types of crypto assets can be managed under a single protocol.
This means the protocol can utilize ERC-20 tokens along with other popular chains like Bitcoin and Polkadot. The company aims this to cut down collateralization requirements, reduce fees to manageable levels and substantial increase in usability.
Allowing all the crypto assets to be managed under one interface, Relite will further boost adoption of DeFi platforms to masses.
Features
The protocol has three primary features setting itself aside from the competition:
Interoperability – Every major type of crypto assets is supported like BTC, ETH, DOT, etcetera
Sustainability – Minimizing collateralization requirements resulting in manageable fees and interest rates.
Simplicity – A simple, easy-to-use interface for newcomers.
The protocol will take the help of Polkadot bridges and parachains. This will enable Ethereum, Bitcoin, and other blockchain users to participate in the market with their native crypto assets. Also using Polkadot's tremendous scalability, the protocol ensures a throughput of 1000 TPS. This will reduce contract execution times resulting in lower fees. Relite expects 90% decreased fees than Ethereum.
Team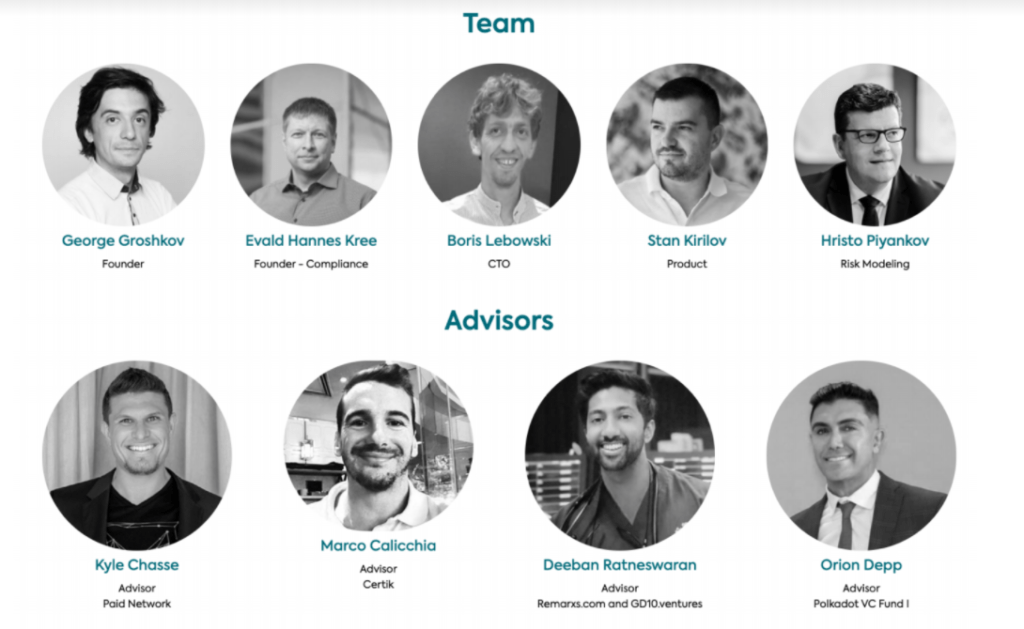 The team behind Relite protocol is headed by George Groshkov, Founder of Relite Protocol. He along with four more members head the project:
Evald Hannes Kree – CEO, Compliance
Boris Lebowski – CTO
Stan Kirilov – Product
Hristo Piyankov – Risk Modelling
The team's advisors include:
Kyle Chasse – Advisor, Paid Network
Marco Calicchia – Advisor, Certik
Deeban Ratneswaran – Advisor, Remarxs.com and GD10.ventures
Orion Depp – Advisor, Polkadot VC Fund I
Relite Token
The protocol has its own native token: RELI which can be used for a variety of functions in Relite ecosystem. Some of the utilities include:
Governance – The token holders can vote on product features, token utility, and inclusion of other chains in the protocol in the future. All participants in the market will have a say in the protocol's future.
Rewards/Liquidity Mining – Lenders and borrowers are rewarded with RELI tokens for participating in the markets. On a daily basis, 0.1% of RELI tokens will be distributed amongst lenders and borrowers.
Staking – Staking RELI in the reserve fund ensures stability and sustainability to the protocol. Staking is profited to the stakers in the form of rewards – 1% from margin proportionally on their stake. Increasing stake will produce an increase in fund capitalization enabling price appreciation, safety during market correction and better lending/borrowing terms.
Tokenomics
The total supply of tokens is 9.1 million. Vesting period for every specific locking period is mentioned below:
Private sale – 12 month vesting period with gradual release of 1/12 per month.
Team – 12 month lock-up period, proceeding that, a 12 month vesting with gradual release 1/12 per month.
Distribution of tokens for every aspect is given in the image below:
Use Cases
Passive Income – Liquidity providers and lenders putting their crypto assets to work will be given back with additional income. Staking tokens ensure rewards and increasing share in stakes increases price appreciation as well as protection from market corrections.
Hedge fund combating Volatility – To combat against high volatility, collateralizing assets together ensures stability in crypto assets without losing the surges of the deposited crypto in the future. Combining all the assets will create a strong foothold that will be unfazed by small declines and ensure minimal loss with strong "shrinkages" in the market.
Borrowing and Lending – Piling of crypto assets under a single place will allow a wide range of financial products for the needy while offering fair rates to ensure a balance between the borrower and the lender.
MVP and Roadmap
Relite Protocol's MVP is currently under development and yet to be launched. The goal for the product is to be efficient, fully functional with supply and borrowing functionality.
The protocol's initial MVP will be implemented on the Ethereum and Polkadot networks simultaneously. The necessary liquidity will be provided in Uniswap and other pools. After this, the focus will be on offering full interoperability with other chains and further proceeding towards introducing bridges and parachains on Polkadot.
Final Thoughts
The bottlenecks stated by Relite protocol aren't far-fetched but actually a nuisance causing rifts that lead to deterrence from the DeFi ecosystem. With their purpose-built offering, aiming to rectify the bottlenecks as well as offer a simple UX ecosystem combining all the crypto assets under a single platform, they are aiming to bring a new dose of force to the masses for transiting to the DeFi world. An exciting space to keep an eye out for.