Kasta is an alternative Blockchain-based payments platform. Kasta mainstreams services related to mobile payments. Payments are made simple, secure and easy.
And KASTA is a crypto token that offers a great range of features and benefits in the Kasta ecosystem. People can sell or buy KASTA just like any other cryptocurrency in the world. This token plays a critical role in Kasta's payments method growth.
Mission and RoadMap
Kasta aims to steer the world towards the worldwide adoption of cryptocurrencies. And a crypto-based marketplace. Kasta believes this project will play a major role in transitioning from a FIAT-based economy to a crypto-based world. Users can send and receive tokens instantly with Kasta payments. They look to provide convenience with every transaction. They aim to become the new Venmo and are working on a global stage.
Q1 2021
Q2 2021
Login and signup flow.
Start sending and receiving money.
Deposit and purchase Bitcoin.
Q3 2021
MVP architecture underway.
Incorporation
Recruitment for development.
Q4 2021
KASTA token created
Purchasing BTC, USDT, ETH.
Crypto-to-crypto exchange enabled.
Estonian Virtual currency License acquired
Launch Beta.
Q1 2022
MVP launch
Crypto to FIAT
Kasta Debit cards
Q2 2022
Affiliate dashboard and program.
Implement Kasta payments gateway
Reduce excahnge Fee.
Bank transfers from Kasta.
Q3 2022
Payments request.
Payouts
Sending payments to non-users.
KAM for the merchants.
Linking smart payments.
Q4 2022
Recrut deposits and payments.
Buy now and pay later.
More licenses.
More functionality debit cards.
What does Kasta Offers?
Kasta provides plenty of features and privileges to its users. By investing in the KASTA token, its users will get improved yield rates, reduced exchange fees, debit cards and much more. Users can send tokens easily via the receiver's phone number or their QR code.
Easy Swap Engine
Kasta uses a special kind of easy swap engine. With this engine, users can choose which currency they would want to receive their payments in. For instance, receive ETH and send BTC. Giving these choices to choose from has made it more convenient for the users and have attracted new ones.
Free and Instant
Kasta's Hybrid decentralized approach provides free and instant payments. Heavy transactions can sometimes take a lot of time. That time can now be saved and Kasta believes to have the least transaction time than any other payments application around.
Buy Now and Pay Later
The company provides a payment focused solution through which users can buy now and pay later. With this feature, people could purchase any item from an online store and then choose when and how to pay for it later.
Borderless and Easy Crypto Wallets
All the transactions are borderless because of the high-level blockchain technology. Users would not need to understand the working of the wallets anymore. Users can just transfer money and tokens via the receiver's mobile number or even by scanning their QR code, making the payments more easy and straightforward from anywhere and anytime.
Tokenism – KASTA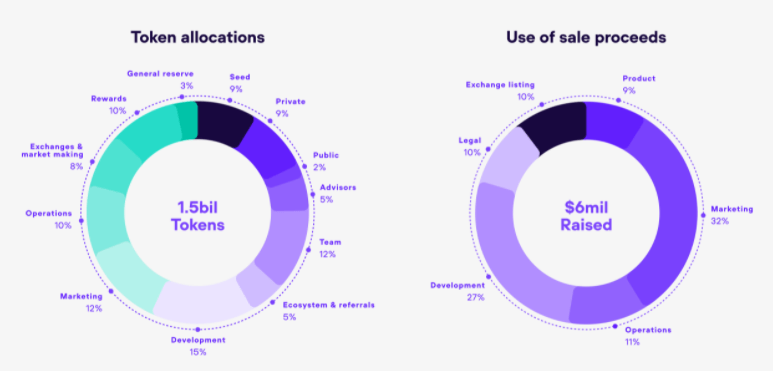 KASTA token is designed to make P2P payments easy, accessible and simple. The KASTA token will be used as the payments methods. By investing in the token users will get fairly reduced exchange fees and much more improved yield rates. The token type is ERC20 (Polygon). The Total Supply is going to be 1,500,000,000. And the initial circulation supply is out to be 2,857,143. The initial market cap was recorded to be $100.0k. Further listing data is expected to arrive after Q4 2021 as per the Roadmap.
KASTA provides features like:
Better cashback deals.
Ease in P2P payments.
More the KASTA, lower the exchange rates.
Yield multiplier
Customize your own debit card.
Get rewards by staking with your friends.
Get votes for brands. Kasta will provide cashbacks for them.
Exciting rewards from referrals.
About the Core Team
Carl Roegind, CEO: Carl is the CEO and co-founder of the company. He has more than 10 years of experience in startups and digital marketing. His latest experience has known to be the co-founder of Bitcoinsensus. He specializes in Crypto and conversion tactics. He has previous working experience with Europe's largest online casinos.
Carl Runefelt, CMO: Whereas this Carl is a serial entrepreneur, consultant, philanthropist and a multimillionaire crypto expert. With experience of over 5 years in crypto space and digital marketing. He has 1M folllowers on YouTube, Twitter and Instagram. He is the founder of the Social Media icon 'The Moon'.
Cristiam Da Silva, Full Stack Developer: Cristiam is the full stack developer behind the project. With more than 15 years of experience in the software development domain. And 4 years of experience in blockchain development. He was earlier responsible for the development of the core architecture of a UK E-bank.
Igor Costa, Front-end Developer: Costa has been working in the software development industry for over 3 years. He mostly has experience in the finance related projects. And is responsible for the front end part of the project. His strengths lies in the web development and mobile application development.
Mathieu Sylvain, Social Media Manager: Mathieu has over 10 years of knowledge in the social media domain and management. He has around 3 million followers across the platform and a few years of experience in the cryptocurrency and blockchain sector.
Advisors and Partners
Kasta payments project is expected to be a new change in the payments method. Kasta have hired some well-known advisors like Kyle Chasse, Dane Hoy, Roderick McKinley and Jordan TMG. They all are industry veterans, well-versed in the crypto and IT sector. They are the brains behind all the advisory that goes behind the Kasta project. The company has also partnered up quite sharply.
Ivan on Tech is the technical partner. Ivan is a blockchain developer and has developed his strengths in the blockchain protocols. He has a great following and admiration in his YouTube channel.
Moralis is yet another technical partner. It is an ultimate Web3 Development company. Known to be the fastest in building and devloying dAppson Polygon, SOL and ETH. Moralis ensures that the dApp is future-proof.
Zokyo is the Auditor and a studio platform. It builds and secures the funding of crypto and NFT companies.
Polygon is the framework and protocol for connecting ETH-compatible networks. It is a building protocol for blockchain domain. Provides solutions on Ethereum based ecosystem.