The new data platform SEOR has a plethora of functions in its arsenal which it has to offer. Does it stand out? Does it cure the existing loopholes or create more? Will this be it for the data processing problems in the ever-loving decentralized blockchain world?
What is SEOR?
SEOR has a lot to offer to the industry. It offers a data platform, not like the others. It is weaponized with a low-code development platform of Oracle data for Link Reality and provides peak accurate data for different types of Decentralized Apps (DAPPs) serving in areas such as DeFi, GameFi, SocialFi, etc. Eyeing to complete the construction of Web 3.0 infrastructures and fundamentals.
A key point that makes the protocol stand out is the embedded technical feature. The platform adopts a hierarchical and modular microservice architecture to split the oracle network into a multi-layer three-dimensional network.
Key Features
Flexible Customization
SEOR supports flexible data network customization by using a self-innovative solution lightweight Oracle network (LON), which is also supported to integrate with the standard protocol offered by Oracle. The supreme malleability of the protocol allows developers to use any form of data including news, entertainment, sports, weather, random numbers, etc.
Multi-chain Integration
The data platform is enhanced by Polkadot and performs the serving middleware to handle both Layer 1 and Layer 2 protocols; both on-chain and off-chain data. Cross-Chain interoperability of Smart Contracts through our "cross-chain contract gateway" is one of the most powerful benefits of the Seal-Oracle platform. Unlike many ecosystems out there, SEOR governs over multiple chains.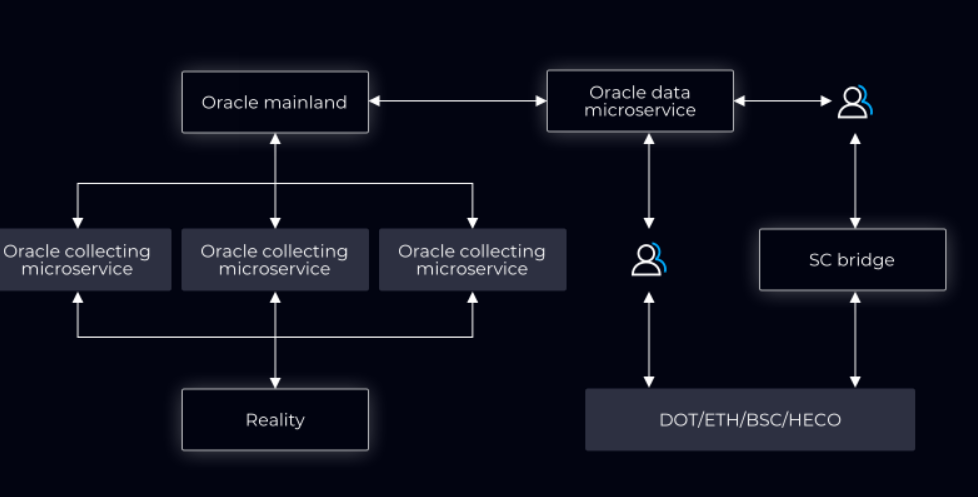 Technical Infrastructure
The protocol is a lightweight short-chain technique. The rapid support of data verification and storage of evidence of data authentication by the self-innovative LON technology is very efficient.
Numerous Modes
SEOR supports mainly three operating modules – Request/Response, Subscription/Broadcast, Immediate reading.
Compatibility Support
SEOR currently supports multi-chain/cross-chain DAPPs' off-chain and data requirements and support.
The Roadmap
2021 Q1 – Q2

Open-SO 1.0 Released
Seal Oracle Project Start
Open-SO Upgrade to 2.0

2021 Q3 – Q4

Open-SO Developer platform release
Seal Oracle alpha Release
Smart contract brigade Agreement to Release
Seal Oracle beta Version Release

2022 Q1 – Q2

Seal Oracle blockchain Agreement to Release
Seal Oracle gateway Agreement to Release
Seal Oracle Network Upgrade to Oracle Network
Seal Oracle Test Network "LINE" Release

2022 Q3 – Q4

Seal Oracle common smart contract project startup
Seal Oracle Test Network" SURFACE" Release
Summing up, it is safe to say that the data platform is eyeing Seal Oracle Main; Network "SPACE" Release; Seal-Oracle Developer Platform Release; Seal Oracle Protocol Family Upgrade; Seal-Oracle All business migrated to Seal-Oracle Main Network.
The Competition
Market Cap – $13B
Token performance – ATH is 235x the initial price
Market Cap – $300M
Token performance – ATH is 36x the initial price
Market Cap – $118M
Token performance – ATH is 185x the initial price
Market Cap – $1B
Token performance – ATH is 135x the initial price
Why is SEOR better?
The SEOR protocol takes the edge over its competition solely on the fact that it can support multi-level blockchain including Layer 1 and Layer 2.
Token Use Case Scenario
The roles can be classified into three categories:
A Data verifier: Pledge SEOR to become a mainnet node
Data provider: Pledge SEOR to become a data supplier
Data user: Use SEOR to obtain data service
Mainnet nodes and data suppliers will share a certain percentage of the consumed SEOR. Data verifiers and suppliers need to stake SEOR to become nodes and provide services.
At the same time, if some nodes are identified to do harm to the project, their staked tokens will be confiscated for punishment.
Since they are on Polkadot, they are not sure which token to have, but it will mostly be ERC 20.
The Team
The team leading the protocol is 35 members big. Here is a brief on some of the people in leading positions.
Winnie Wen, Marketing lead
Chinese Academy of Science Blockchain Laboratory of Research and Application Operations and Development Centre Deputy Director
10+ years of marketing and growth experience in cross-border e-commerce; NGOs; the arts; and education sectors.
Serial entrepreneur
Wang Huaiyu, Tech lead
Responsible for architecture design and technology research and development at NKN
Involved in the project management, architectural design and technological R&D of ONT、TRX、ETH and DOT.
Li Yingxuan, Project lead
Ex Onchain / Ontology Beijing Technology Officer.
Involved in the project management, architectural design and technological R&D of NEO、ONT and ELA.
The team collectively worked hard on the project Seal SC Foundation before coming up with SEOR. The SEAL SC Foundation is a blockchain software technology company that meddles in blockchain middleware and fundamentals. And the project also generated a net income of about $800,000 to a million in the last three years.
Jon Ren, Advisor
HasledtheStepFinanceTokenLaunch
The Business consultant for Volatility
Protocol and Swaperry
The Strategic consultant for Faraland, Evrynet, BSCLaunch, Project Seed, Showcase, IMM and Sienna Network
We currently support Ethereum, Polkadot, Polygon and other ecosystems, and will continue to support more public chain ecosystems in the future. Currently we are negotiating with: Solana, IOTEX, and Avalanche. We will help these ecological DAPP projects to achieve business functions in a simpler way to gain a broader application market.

Statement by the Team