SpaceY 2025 is the first blockchain tower defence game that is themed around Mars immigration. The setting was inspired by Elon Musk's mission to Mars — to spread human cultural genes by establishing human settlements on other planets. The team is building an NFT metaverse in a universe that interconnects the virtual world. Gaming, social networking and the encryption economy are merged as well.
Currently, the market for blockchain-based games with the possibility of profit is growing rapidly, and many new projects hitting the market. What makes SpaceY2025 so unique that it attracts that same amount of attention from investors, key opinion leaders and fans?
The most crucial aspect is the innovative game design. Many blockchain-based strategies and sandbox games have decentralization, governance, free-to-play, and play-to-earn but lack the game experience players used to in regular computer games. SpaceY leads blockchain game design with its sophisticated mapping, rendering, and modelling for an advanced blockchain game experience. For example, SpaceY's game developers have implemented a light tracing tool (or follow the spot) into the game, similar to Unreal Engine 5.
Quite the exhilarating concept must say, but what is the main protocol behind this game?
The protocol is based on Ethereum and uses Binance smart contract. The project has a multichain support bridge and hence can move to Solana and other blockchains at any time.
On the Mars base, a total of 360 pieces of land will be available. Players can purchase land through SPAY, the game currency that can be bought from official sales and players in the marketplace.
Mission & Vision:
The emergence of non-fungible tokens (NFT) brings new possibilities for human civilization to develop in the digital age. Blockfish is committed to promoting the inheritance of human cultural genes through NFTs and using high-quality IP+ core gameplay to become the world's leading blockchain game development company.
RoadMap:
2021: Game Launch (Web version) and Token launch (July)
2022: Launch of the mobile version
2023: Launch of the steam version
For the listing, they have an ongoing discussion with centralized and decentralized exchange Houbi, OKEX, Binance and are planning to contact Coinbase, FTX, Pancake and Uniswap. First launch on centralized exchange followed by a decentralized exchange.
The game's version I (v1) was launched in July earlier this year, and the full version is expected to launch in November.
Game Features : SpaceY 2025
The first tower defence game on blockchain sees you defend your base on Mars from invading aliens and alien creatures.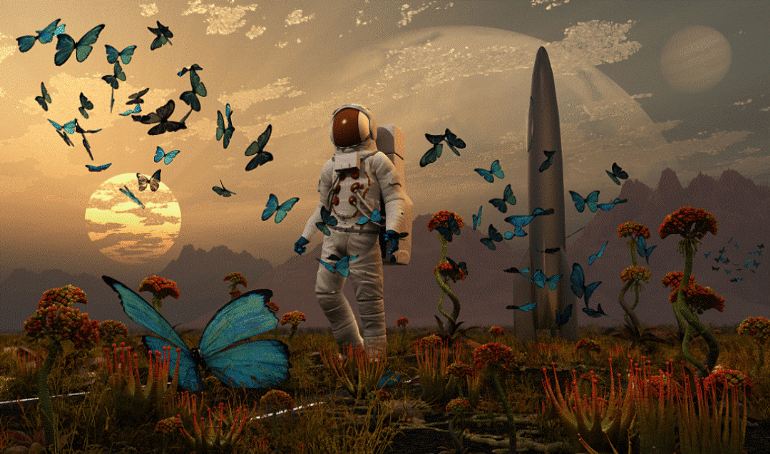 Project Characteristics:
Core Game Play: A new season starts every month and each season will feature a new map. Players build defense towers, create maps to defend their Mars base, challenge the ladder ranking.
Play to Earn:

Income 80 to form a ladder ranking prize pool that settles each month.
The Top 20 players will be rewarded with Cryptocurrencies.
10 of the revenue will be used as incentives for the development team.
The remaining 10 will be used to increase the mining pool liquidity.


In game purchases: Cards (NFT) collection (spaceship tickets, land, game assets: towers, gems, buildings)
Mystery Boxes: Every NFT item will have its own unique random attributes (attack range, attack, attack speed, gem bonus, construction speed, etc.)
NFT market transaction fees 1%-5%
80% of all user revenue per season is used for player prize pools, 10% for development team incentives and 10% for mining pools to increase liquidity (Uniswap is the only designated mining pool).

Here is a sneak peek into the development of SpaceY2025, shared by the company on Twitter:
Tokenism Use Case
Synapse Pay (SPAY) is an innovative project built on Binance Smart Chain to convert traditional payment systems into Blockchain-Based Payment mechanisms. Also, as SPAY becomes more mature, it aims to grow into an ecosystem where fellow researchers can earn rewards for the publications done on journals that have adopted SPAY as their payment method.
SPAY Token will be used to purchase the in-game assets, which are NFTS on the game website.
Players must have a proper strategy to climb the ladder to get rewards, not just mortgage assets. As an incentive system, SPAY tokens can be used for in-game consumption, purchase NFT prop assets, or mortgage to the platform to get handling fees.
In addition, SPAY can also be used as a community governance vote. Players have the right to vote to determine the development direction of the game world and the distribution of benefits. The official website has established a DAO community for players to vote. Players' tokens, land, and item assets will all be counted as VP for voting.
SPAY Token which will be the governance token

DAO Voting
Purchasing NFT Props
Claiming Rank Reward monthly
MARS Token which is the gaming token.

Allow players to earn MARS tokens daily
Pay for NFT tool's creation, attributes reset
Total 10,000,000,000 MARS Token

Players can now buy tickets in the marketplace on our official website or OpenSea. The ticket allows players to have a firsthand experience of v1 of our game (launched in July).
There are only 100 tickets in total. And it will represent the identity of the pioneer of Mars.
In future, players who hold the ticket will have advantages in the game. And they will also have greater voting rights in our game's decentralized autonomous organization.
The majority of the tokens focus either on Metaverse or on GameFi however, SpaceY 2025 is combining both of them. Also, given the growth of the gaming industry, the team feels that there is room for projects games like SpaceY in the market and given their combination of the Metaverse and gamefi, the team is confident that they will be able to attract a users base to its game.
About the Creators
Robin Duan: Founder and CEO
Tech expert. Ex-Microsoft. Founder of Blockfish. As per the reports, he founded Weihudong Tech, acquired by a domestic listed company and Established Kingdowin Gaming. Developed a series of best-selling games titled "Defend the Sheep Village" and "Cao Cao is Here" which generated 30 million users and tens of millions RMB revenue. As mentioned on LinkedIn, could not find anything on google search.
"The metaverse under the original Internet architecture TCP/IP protocol can not be established, but the ERC721 and ERC1155 protocols clarify the ownership of the virtual world (with NFTs) . We are restarting a new universe, each of us is in this parallel world and can be the creator. The oasis in "Ready Player One" and the cyberspace in "Cyberpunk 2077" are becoming a reality."

– Robin Duan, Founder and CEO
Enka Shu: COO
20+ years of Tech experience with large corporates such as IBM, Yahoo, Microsoft, and Symantec, in the USA, Japan, and China.
Team: 10+ team members
The project SpaceY 2025 is being developed by the BlockFish team. Which became one of the most popular DAPPs on the blockchain, achieving a cumulative turnover of $100 million and profits of nearly $30 million (As per the website)
Blockfish has 6 employees with their major investors as Lotus Capital, Binsen Tang (Founder of ELEX Technology, game developers in Beijing.) and Huabing Li.
Investment institutions:
SpaceY 2025 is currently in its second round of funding, in which it recently received strategic investments from Huobi Ventures and OKEX Blockdream Ventures, in addition to funding from Draper Dragon. Before the second round of financing SpaceY 2025 well-known capital institutions such as F2Pool, Longling Capital, Neo Eco, FBG, Bonfire Union, BTCChina, LinkVC, CollinStar, Fission, NCTY, Formless, Geekbeans Capital, Lancer, Titan, Hotbit and Zonff invested $4.65 million in the game project.
SpaceY 2025 Competitors and How SpaceY stand against them
The year 2021 marks the initial year of the Metaverse. In March, the first stock of the Metaverse concept—Roblox, was successfully listed. Its market value on the first day exceeded 40 billion US dollars. And after that, the concept of Metaverse began to become known outside the fixed circle.
The majority of the tokens focus either on Metaverse or on GameFi however, SpaceY 2025 is combining both of them together. Also, given the growth of the gaming industry, the team feels that there is room for projects games like SpaceY in the market and given their combination of the Metaverse and gamefi the team is confident that they will be able to attract a user base to its game.

Metaverse:
MANA ($1.3B Market Cap)
SAND ($600M Market Cap)
Roblox ($40B Market Cap)

GameFi:

Axie Infinity ($19B market cap)
Animoca ($1B market cap)
Dapper Labs ($7B market cap)
Two very popular Metaverse games—SpaceY 2025 and Star Atlas are being compared the most.
SpaceY 2025 attempts to create a new virtual Metaverse to bring more new possibilities for humanity's development and inheritance. Whereas Star Atlas is a 3A-level space hegemony MMORPG Metaverse game developed by Unreal Engine 5. It is set in 2620 when three main factions are competing for resources, territory, and political dominance.
In the SpaceY 2025 Metaverse, players can participate in Mars missions released in-game, buy land, build tower defences to guard their homes, collect rare NFT items, compete with others, and get rewards from ladder rankings. There are two kinds of tokens in Star Atlas, ATLAS and POLIS, which together with NFT assets, form an in-game economic system.
However, the craze and support of SpaceY 2025 stand out pretty widely. Fans are very eager to see how the game pans out after the launch later at the end of the year.
Takeaway
SpaceY 2025 is the first 3A-level NFT sandbox tower defence Blockchain game about Martian settlement created by Blockfish team. Now the core gameplay of the game is supported by 6,000 KOLs and 120,000 fans around the world.
SpaceY 2025 is currently the only sandbox tower defence metaverse game related to NFTs on the market, which makes it unique. And it is pretty much obvious to say that undoubtedly this game will be the stepping stone in the revolutionary blockchain-based gaming era.
Also, in July, Facebook founder Mark Zuckerberg said that Facebook would transform from a social media company to a Metaverse company within five years. China's game behemoth Tencent has already started creating a layout for Metaverse games. Roblox and Epic are both on the list of investors to build the so-called All True Internet they proposed. So we can pretty much be sure that Blockchain gaming and the industrial plethora is just started to shape in. And plenty more is yet to come.
The release of the full version of the game is in November as we all strive to get a piece of SpaceY 2025.
So guys get ready, seatbelts fastened, and see you on Mars!