Crypto-native firms and asset management organizations often struggle to access decentralized finance (DeFi) and manage their crypto assets effectively. This is mainly due to severe limitations in governance, security, and accessibility.
Unido addresses these issues, enabling secure access to DeFi opportunities. It enables firms to seamlessly manage and invest their crypto assets securely and intuitively.
What is Unido?
Unido; powered by Polkadot; is an enterprise platform for decentralized capital markets. It is a crypto asset custody service and enterprise. It provides features for the management and investment of crypto assets on-chain.
Features
Centralised Dashboard – A central, intuitive dashboard providing access to a suite of crypto banking and DeFi management tools.
DeFi Vault – Enterprise multi-signature wallet that acts as a DeFi vault to store, invest, and manage crypto assets into an array of leading networks such as Yearn Finance, UniSwap, and Balancer.
Crypto Banking – Business banking portal enables enterprises to seamlessly manage their daily operations and capital expenditure. Features include crypto payments, governance customization, and wallet management.
Ecosystem
To digital transactions, Unido is the first democratized solution. Every member in a group holds their unique key required to approve an action. It streamlines transactions using blockchain.
Unido products are supported by Unido Core developed in 2017 by PAC – a key management & transaction signing technology. They are unlocking the Unido Core technology via an API to enable 3rd party developers, enterprises, and partners to leverage enterprise-grade security, flexible governance, and interoperability available for any dApp.
Tokenomics
UDO is the Unido token. There will be a total supply of 115M UDO which will be vested according to the table below:
Why Unido?
Unido has recognized the need to make corporate transactional processes modern. They believe in taking the asset transactions out of the board room and turn them into a uniquely mobile experience. With cutting-edge technology, unbridled flexibility, and multi-factor security, corporate assets have never been more secure or liquid.
Unido Wallet is a competitive market-leading product. Without sacrificing security or functionality, it presents as the most cost-effective option available. Unido Wallet is therefore a clear choice for all transactions, with additional benefits for larger transactions. The more one transacts, the less one pays in processing fees.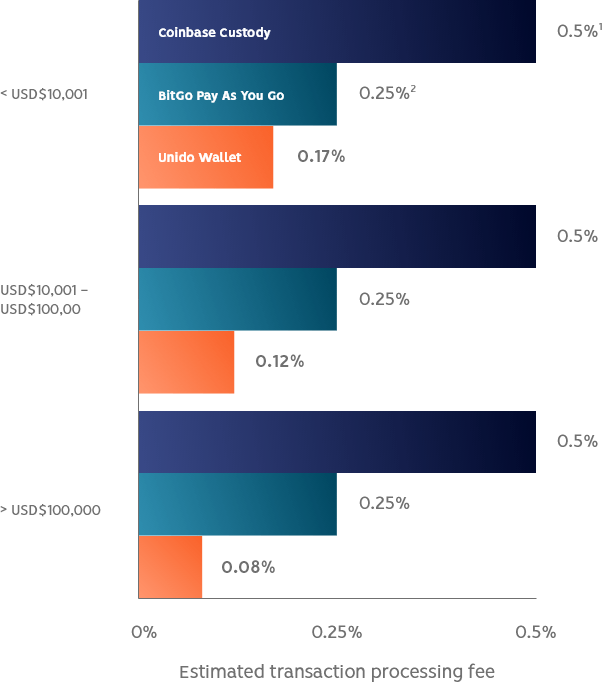 In addition to offering the most cutting edge fees on the market, Unido Wallet also provides several other cost benefits including:
No minimum account values
No minimum transaction volumes
No setup fee
No ongoing fees
Team & Investors
Unido is led by a highly experienced team from Goldman Sachs, Macquarie Bank, Wipro, and Coca-Cola. Being built on Polkadot, Unido is the first enterprise-grade asset management platform and features apps already available in the App Store.
Unido is supported by DuckDAO, its strategic partner, and incubated by the team behind Bridge Mutual, AllianceBlock, and SpiderDAO.
Future Prospects
Unido is preparing for Polkastarter IDO Whitelist Round 2. The round will take place on Feb. 26, 2021, where they will launch the UDO. Whitelist is open for 24 hours from Feb. 21, 2021, to Feb. 22, 2021.
Both Polkastarter (POLS) token holders and non-POLS token holders can participate in the round, provided they complete the whitelist tasks.