After a severe crypto crackdown in the Republic of China, Bitcoin's tumble has led to the premier cryptocurrency fall below $30,000. At its new peak in January 2021, it had touched $41,528 on Jan 8, and after three days, it was at $30,525.39. Also, in May this year, it had gone down to $30,001.51 for almost a day.
BTC, which had seen tremendous growth since the beginning of the year, has its gain for the entire year pulverized with such a downfall. The original cryptocurrency has fallen more than 50% from its mid-April high of shy of $65,000. An equally significant point to remember that BTC rose about four times from its initial price of $29,000 at the starting of 2021.
Many strategists are stating the thirty thousand dollar mark to be a significant psychological one. If BTC cannot recover in a brief while, it is more likely that the premier cryptocurrency will have to sink even further. Chief strategist for Miller Tabak + Co. Matt Maley said:
"Any meaningful break below $30,000 is going to make a lot of momentum players to throw in the towel. Therefore, even if Bitcoin is going to change the world over the long-term, it does not mean it cannot fall back into the teens over the short-term."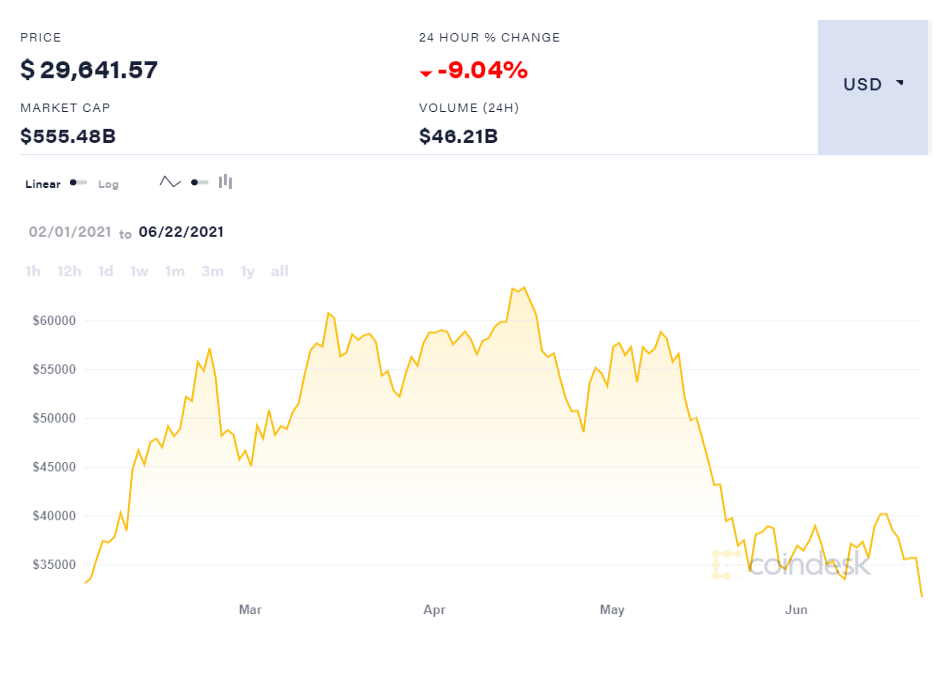 As of writing, Bitcoin is at $29,641 with a 24-hour price change of -9.04%. It had briefly seen the lowest mark of $28,814 before resurging back to $29 thousand. Such a substantial downfall has affected other coins too. XRP fell about 21%, Litecoin about 18%, Dash about 22%, Ethereum about 12.3% and Polkadot by 20.67%.
BTC has faced similar 'rollercoasters' in its time, with the most famous one in 2017. It rose more than 1000% that year and lost 75% in the following year. This crunch is brought on largely by Tesla CEO Elon Musk, who reiterated its support from Bitcoin, citing environmental concern. Not only that but a recent crackdown on cryptocurrency mining in China which, unfortunately, is the biggest source for Bitcoin mining, has led to a severe downfall in the premier cryptocurrency.
Related Stories: