Crypto Markets are currently at a sensitive stage right now as the price of the two biggest cryptos, Bitcoin and Ethereum dropped to their lowest levels. However, both of them have recovered some ground since yesterday.
The price of Bitcoin reached as low as $20,113 at one point yesterday, a lot lower than its glory days of above $50k. While many feared that Bitcoin would drop below $20,000, the crypto pounced back to recovery. Moreover, Bitcoin is currently trading at $21,259 per coin with a 24-hour price change of -4.00%.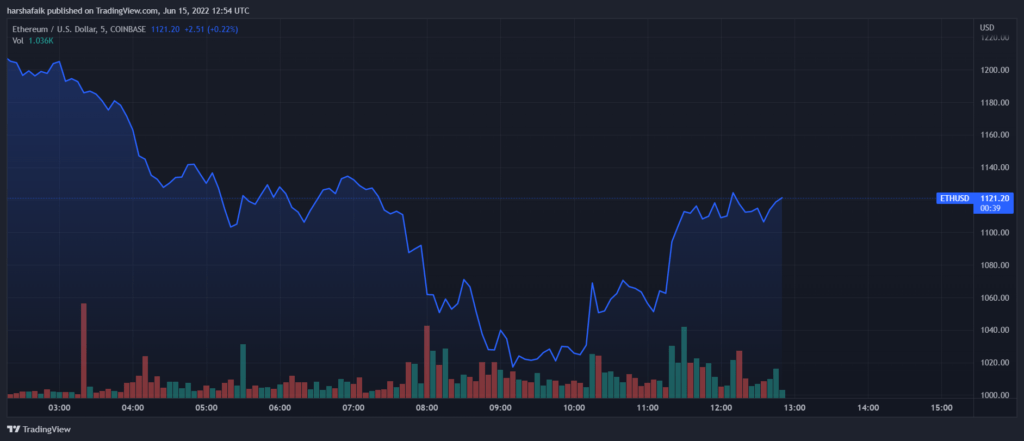 We can see a similar trajectory for Ethereum as well. The most popular altcoin dipped to $1,017 at its lowest. People became concerned about Ethereum potentially dropping below $1,000 mark but it did not. In fact, the altcoin recovered and trades at $1,111.41 with a 24-hour price change of -7.89%.
A major reason for such weakness in crypto markets led to the global macroeconomic scenario. Globally, inflation is highest in the majority of the regions. Moreover, central banks across the world are looking to tighten their grip on inflation. To do so, they are increasing the rates on bank interests which will squeeze liquidity out of the system.
Due to this, crypto, as well as equity markets, are feeling the heat from these moves. In fact, the global crypto market cap dropped below the $1 trillion mark for the first time since January 2021. As of now, the global crypto market cap stands at $971 billion.
Related Stories: